1. Another windy day across the region today. More windy weather is expected into Monday thanks in part to the leftovers of the Christmas storm which will bring a cold front through Sunday night. However the snow chances with this front will be to our north with only scattered flurries expected. Highs should be in the upper 30's Sunday with lows in the 20's. This chilly weather mostly cloudy skies and flurrie chances linger into Monday thanks to nw flow.
2. Tuesday will see more sunshine thanks to high pressure and warmer temps into the low 40's as an arctic airmass only glances the region Monday.
3.  A storm will cross the country from Texas to the east coast from Wednesday through New Years day. This track is very favorable for wintry weather around here. However like with the light vent that led to an east coast snowstorm before Christmas thermal profiles will once again be on the fence with this as precipitation starts Wednesday afternoon.The gfs suggests a cold enough event for snow while the euro has more rain from the first period of precipitation. The first period of precip should end Thursday morning as it heads toward the mid-atlantic. However the main low will form in the gulf,  by late in the day Thursday  thermal profiles on the models cool for snow across the mid-south as this low tracks from Mobile to Virgina beach by Friday morning. This track gives the region a fair shot of snow but with the heaviest accumulations to our east. My thoughts are fairly close to the midday euro run but with some slight differences. The gfs model right now is not handling this set-up well at all because of it's bias to
1. suppress storms to far south
2. put to much emphasis on the northern stream
3. try to send to much of energy off to the east in first period of precipitation to quick.
Here are crude but homemade maps to show my current thoughts on the storm.
Wednesday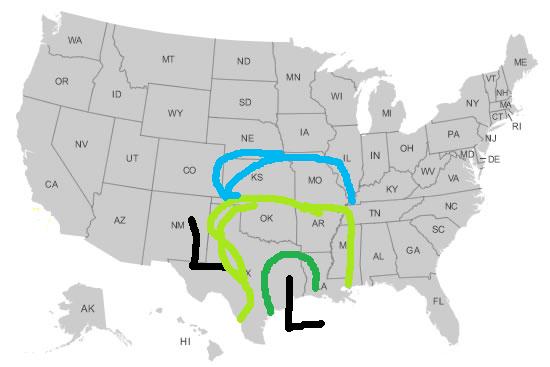 Wednesday night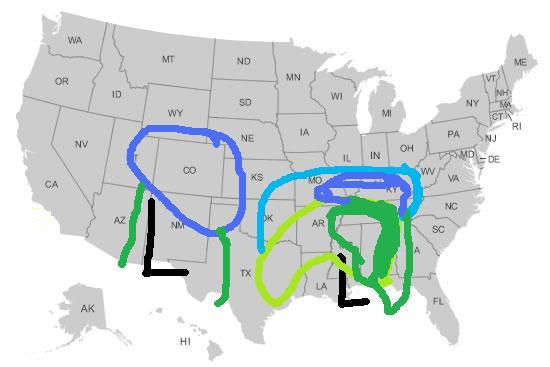 Thursday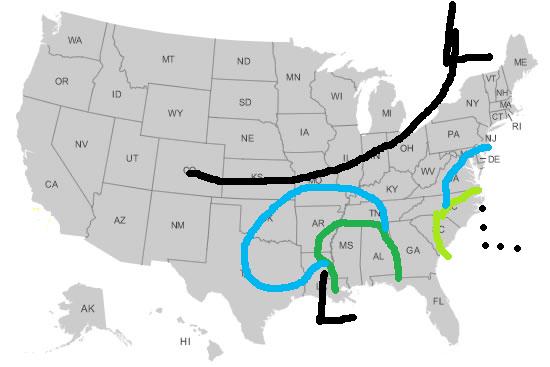 Thursday night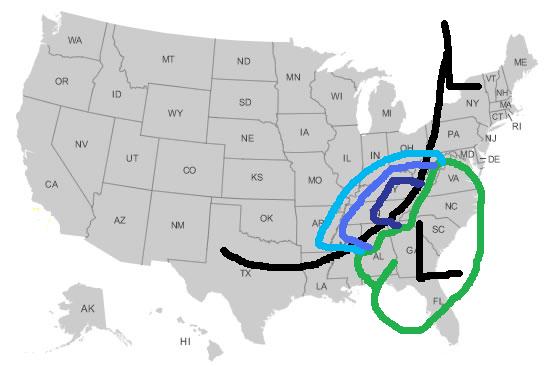 Friday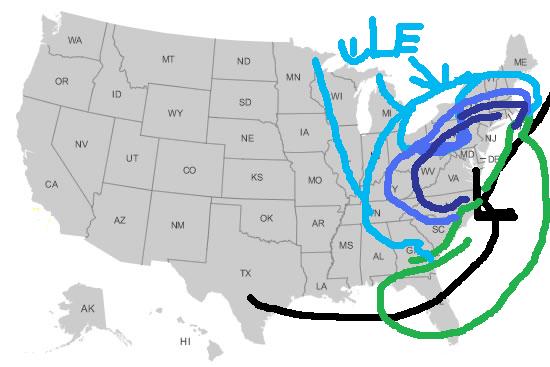 It's still early in the week and all of pieces of this complex storm are still uncertain. My next post in a few days willgive more details on timing, qpf amounts an impact to any New Years plans. As of now I'm expecting some light precipitation Wednesday night that could be rain or snow and a period of snow New Years eve.