Last week proved to be a very cold and snowy one in the Bowling Green area, with near-record lows and two separate accumulating snowfall events. First, on Monday, morning rain quickly changed to wet snow as a surface low passed just southeast of the area. This event produced 2.1 inches of snow in Bowling Green, with much higher totals in southwestern Kentucky where localized heavy bands of snow set up. 6 inches of snow fell at the National Weather Service office in Paducah, while Draffenville, KY hit the jackpot with 10 inches. On Wednesday, the Bowling Green area found itself on the northern periphery of a large area of snowfall over the south central U.S. This system dropped an additional 3.8 inches of snow in Bowling Green.
In the wake of this system, the deep snowpack combined with an arctic airmass characterized by calm winds and clear skies to drive low temperatures down well below zero in Bowling Green. The official low at the Bowling Green airport on Thursday morning was -3, while the Kentucky Mesonet station at the WKU farm just south of Bowling Green recorded a low of -7. Friday morning was even colder, with a low of -10 reported by the Mesonet station. A map of Friday morning lows from the Kentucky Mesonet shows that the coldest temperatures were over southern and southwestern Kentucky, where the most snow cover was in place. Lows were much "warmer" over eastern and northern Kentucky, where little snow fell from either system.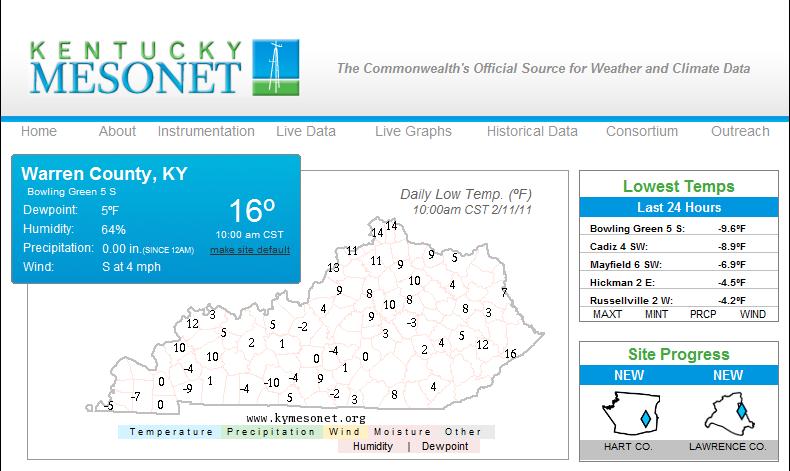 In the wake of the snow and cold, ridging aloft and southerly surface winds brought about a dramatic warmup for much of the eastern U.S., with highs reaching the lower 60s in Bowling Green yesterday. A cold front brought a temporary cooldown into the lower 50s today, but temperatures should be on the increase through at least Thursday before better rain chances return to the forecast on Friday.