We started the morning in Ft. Stockton, Texas and headed out around 10am with the target area to be Odessa, Texas. Below is an image of this morning's surface analysis.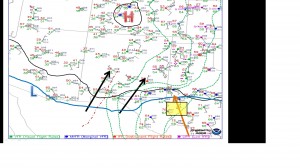 Today, we finally had upper level support for storms in west Texas. The 250mb jet was located over western New Mexico and the 500mb jet was located in southwest New Mexico which gave us divergence aloft, with sufficient theta-e advecting into southeast New Mexico and west Texas. This, accompanied with a decent dry line was enough to support supercell structured storms. However, the outflow boundary from the previous day's showers and storms took a little longer to stall over west Texas than expected so we decided to remain in Stockton, TX. While playing the "waiting game" we took time to relax and threw some football. While working on our farmer tans, we noticed a few prairie dogs taking in some of the action of our pickup game.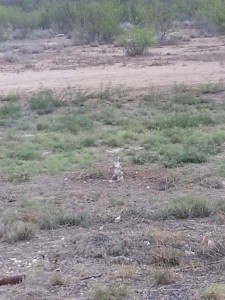 By midday, storms began firing just south of Odessa near Crane, TX so we headed northeast to intercept. We ended up catching a line of three cells near Big Lake, TX and by this point the storms had matured into pretty decent structured supercells. The main threat with this storm was large hail and damaging winds. Below is a photo of the storm when we first intercepted it just north of Big Lake, TX.

After the storm passed north of Big Lake, we noticed the storm to the southwest had amplified so we headed just south of Big Lake to intercept. We ended up sticking with this storm for the remainder of the day, following it northeast. The storm received support from the low level jet by early evening and was able to produce a funnel cloud just north of Barnhart, TX. Below is a photo of the funnel cloud. It is a little hazy considering we were traveling down a road just east of the storm.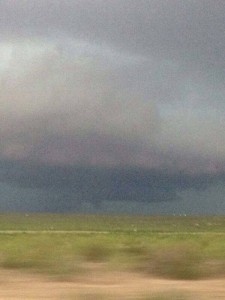 Around 8pm the storm to the north, that we first intercepted, began merging with the supercell that we were currently on. The fusing of storms caused them to form a more linear pattern and the tornado threat decreased. Below is a photo of the storm once it had fused with the storm to the north.

As night approached we decided to call it a day and headed north to San Angelo, TX. Here, we had dinner at Bodacious BBQ till the storm had passed. After dinner we headed to Odessa, TX where we are staying for the night in anticipation of tomorrows events.