On Sunday we started our day in Ogallala, Nebraska and prepared for what we hoped would turn out to be one of our better chase days. The setup featured a split flow aloft with a surface low moving across western Kansas. This would provide the lift for storms to fire across the western part of state before congealing into a line and moving east. Wind shear was weak in the lower levels but the CAPE was progged to have values of 1500-2500 J/kgK and storms were expected to produce mainly large hail, damaging winds, and isolated tornadoes. Here is a look at Sunday's surface analysis: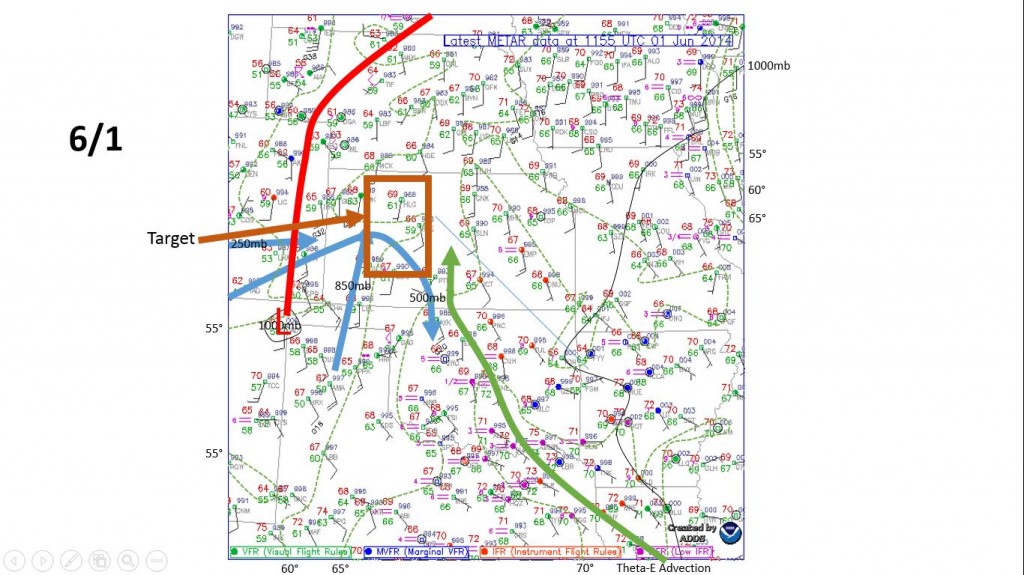 We departed pretty early from Ogallala and headed about 3 hours south to a small town called Norton, Kansas which sits right along the Kansas/Nebraska border. We ate some Subway for lunch and even ran into our friends from the College of DuPage once again. This also gave us a chance to check on the short range models to get an update of what was going on with the storms. Ongoing in convection in southern Nebraska was still present and supercells that were forecast to pop up over the western part of the state and congeal into a line were looking to happen too late in the day to chase. So we decided to try and chase the strongest storm on the southern edge of the ongoing convection in northern Kansas.
We targeted the strongest storm pretty well and left Subway, but even the strongest storm was not impressive once we reached it. We caught the storm in Philippsburg, Kansas where it became severe thunderstorm warned. Then we followed the storm to Athol, Kansas and got a view of the severe storm.

This storm was elevated and receiving none of its inflow from the surface. Even though it looked pretty impressive in person and on radar, this storm was not very strong and was only going to produce small hail before losing strength. We left the storm and headed west to Hays, Kansas to see if any storms fired a bit earlier than expected but unfortunately none did.
This would mark the end of our chasing and we headed east to Salina to drop off Dr. Dixon and then we headed east ourselves to the hotel in Boonville, Missouri. Yesterday we woke up early and drove from Boonville to Bowling Green and returned to campus. After 14 days traveling, 6 states covered, and a total of 8,311 miles (avg. 547 miles per day) we have returned from an amazing storm chase. Here is another group picture of all of us on Day 6 in Texas.  (including Dr. Durkee in the background):