We were definitely socked in the clouds today and we won't be breaking out of them for at the least the overnight hours as some higher clouds, represented by the brighter colors in the imagery, start to move in from the west.
Set-Up:
A stalled out frontal boundary to our south with start to lift northward as a warm front throughout the day tomorrow helping to usher in some much warmer temperatures as well as moisture content. Most of the day on Saturday remains dry. We'll have to watch out for scattered shower chances out ahead of the approaching warm front. By Sunday we will be well established in the warm sector. Depending of how much sun we will see, storms could be a possibility Sunday evening out ahead of a approaching cold front from the west. Temperatures on Sunday will be flirting with the 80 degree mark for the first time this season! Some of the storms on Sunday could be strong to severe if the instability is able to establish itself over the region. Confidence for strong storms is low at this time. Here is the 0Z(7 pm) run of the NAM model's depiction of how Sunday COULD unfold.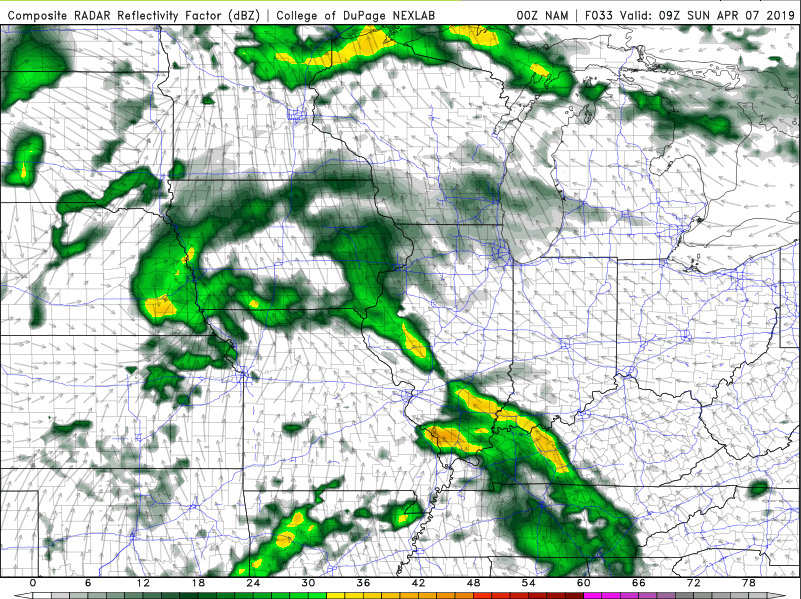 Showers possible early Sunday morning ahead of that warm front. The showers should clear out shortly after sunrise keeping a small part of the day dry. Showers and storms return, however, by early afternoon.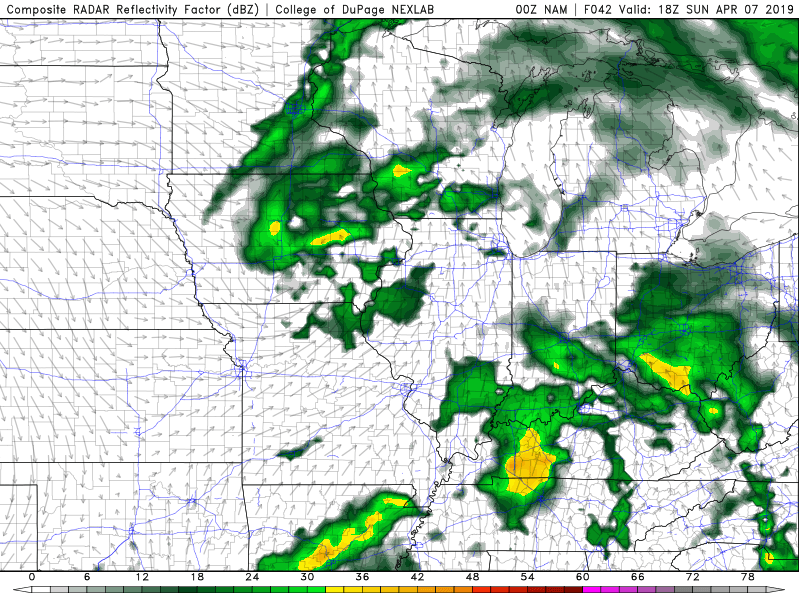 Shower and storm chances hang on for the start to the workweek as another system approaches from the southwest dragging across the TN Valley through the day on Monday.
36 Hour Forecast:
Tonight: We hold onto the clouds overnight with lows falling into the low 50s. Calm winds.
Saturday: Partly cloudy skies with temps in the upper 70s across the region. Winds light out of the SW.
Saturday Night: Scattered showers late with lows staying in the upper 50s. Winds light out of the SW.
Sunday: Showers and thunderstorms likely. Temperatures in the upper 70s to low 80s. Winds out of the S at 7-13 mph, gusting at times to 23.
Stay weather aware this weekend by following these Social Media Accounts: