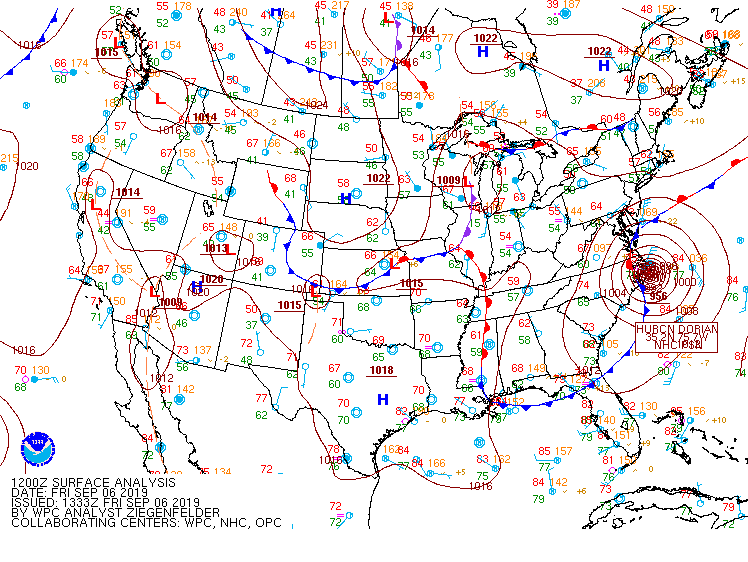 Surface map from the WPC
I could say that this past week was a wonderful because of blue sky and calm weather but it was uncomfortable for some people especially during mid-days. the weather will continue the same scenario with high temperature rise up to 89 °F this afternoon and dew point at mid 65 F°. It is sunny day and uncomfortable since the dew point has a high value. The night time will be slightly different because the night will be partly cloudy and there will be a chance for light rain with low temperature drop to 65 °F. in synoptic scale, the cold front is dropping across the Midwest, meeting a low level moisture and continue to move into southern Indiana and central Kentucky. This will enhance some instability which will suggest isolated to scattered showers and develop some storms along and ahead of the front but if any storm will be developed, it will likely be weak.
Moving to hurricane Dorian`s news, the hurricane is moving to north west along Northern Carolina coastline. the system will continue moving at same path and dragging the cold front into, and moisture air from Great lake.
Overall, high temperature will be between mid and upper 80s this afternoon and next few days and low will be between upper 60s and lower 60s. This weekend weather will be between clear sky and partly cloudy as it is showing in summary.
Summary
| | | | |
| --- | --- | --- | --- |
| Day | Condition | High ( °F ) | Low ( °F ) |
| Saturday | Mostly Sunny | 83 | |
| Saturday Night | Mostly Clear | | 59 |
| Sunday | Sunny | 87 | |
| Sunday Night | Mostly Clear | | 63 |