Good morning everyone!
Forecast
For today, you can expect quite a soaker, as the National Weather Service in Louisville has issued a Flash Flood Watch for today until 7pm CDT.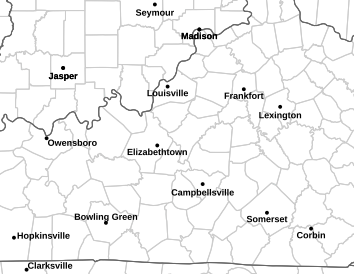 As always, please allow yourself some extra travel time with the risk of flooding. Most importantly, TURN AROUND, DON'T DROWN. With the potential for flash flooding, check your local weather and traffic before you go out.
The widespread rain and thunderstorms end later this morning, followed by a quick afternoon break, then back to storm chances this evening with a cold front passing through the area. Expect temperatures to hang in the mid to upper 70's. Tonight, the rain clears out, followed by partly cloudy skies and lows in the upper 60s. Tomorrow we get the chance to dry out, as temperatures rebound into the mid 80's and partly sunny skies.
Weather Fact!
It may be wet out there today, but it does not hold a candle to December 7th, 1924, when Bowling Green set a daily precipitation record with a whopping 6.15″ of precipitation! (NWS Louisville)
Stay dry out there folks!