Good morning, folks, and happy Monday!
Today's Forecast
For today, expect a warm and wet day. Rain chances persist throughout the day with temperatures hovering around the mid 60s. The potential rain increases in intensity tonight, with up to an inch of rain possible overnight. Temperatures overnight remain mild in the upper 50s. Thunderstorm potential is marginal at best today, but any rain maker like this presents a flood risk. Always remember to turn around, don't drown, and stay tuned to your local forecast if traveling.
What to Watch For
Our rain chance today carries over into the first half of Tuesday, followed by a brief calm period through most of Tuesday night into Wednesday. After that, our next rainmaker moves into the area. This brings, yet again, a chance for heavy rain and thunderstorms in the area. In fact, The Storm Prediction Center has highlighted our region with slight to enhanced potential for severe weather for Wednesday into Wednesday night. Please stay tuned to the forecast for this looming potential.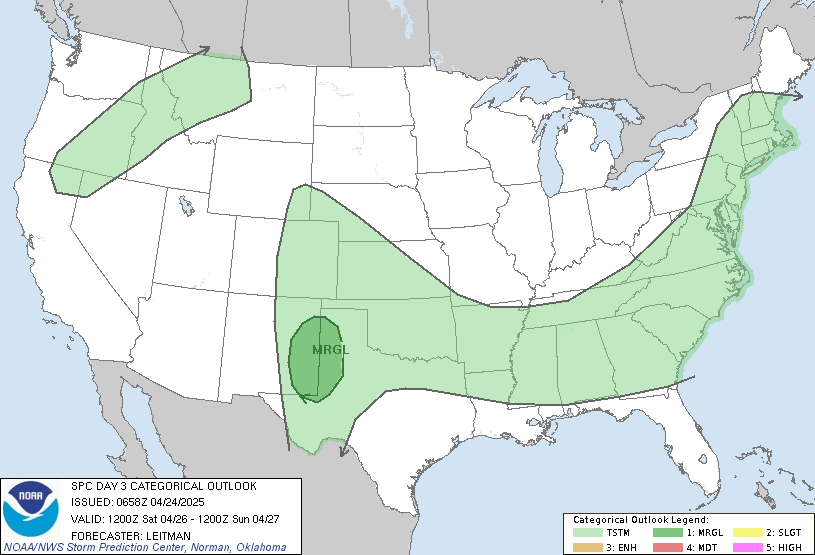 Weather Fact!
On this date in 1991, a world record was broken. This would be for the record for the longest distance a piece of tornado debris has been carried. According to the National Weather Service, "A personal check was blown from a home in Stockton, KS by an F3 tornado and was found in Winnetoon, NE; 223 miles away." That is crazy far!
Have a great week everyone 🙂