Today's Forecast
Good morning and happy Wednesday! I hope everyone has had a great week and is staying dry! Rain will continue through our area this morning, moving out by this afternoon, leaving us with cloudy skies. Temperatures will start to get warmer this week, with a high of 62 today. Tonight will be mostly cloudy with a low of 56. Tomorrow will be warm and windy. Highs will be in the mid to upper 70s with a slight chance for a stray shower or thunderstorm.
Recent Wild Weather
On March 20, in Savannakhet, Laos, a very hot day caused a dust devil to quickly form. This dust devil was said to be very powerful and destroyed a hut and knocked over a motorcycle. No one appeared to be hurt. In comparison to a tornado, dust devils are caused by strong surface heating, and are generally smaller and less intense than a tornado. Most dust devils range from 10 to 300 feet in diameter, reach heights around 500 to 1000 feet, and last for a couple of minutes. Even though they are typically smaller than tornadoes, dust devils can reach speeds of 60+ mph and can be destructive as they lift dust and other debris into the air.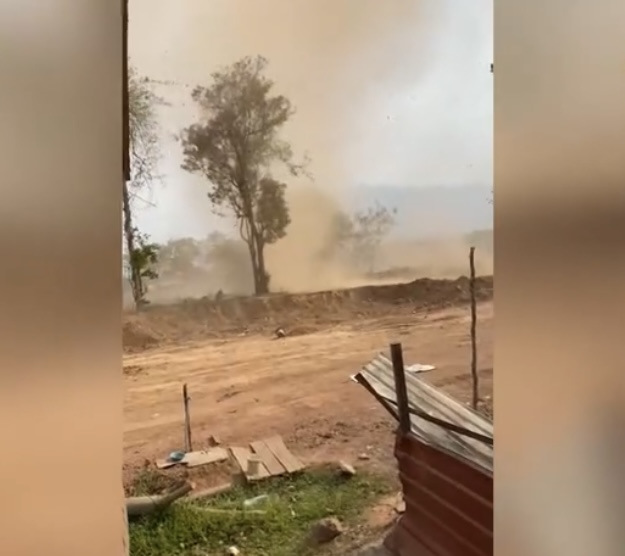 Wild Weather this Day in History
On March 22, 1966, a blizzard began in the West and moved into Nebraska towards South Dakota. With winds up to 50 mph, visibility was near zero. Seven to 8 inches of snow hit South Dakota and nearly 2 feet of snow in the Black Hills. With snow everywhere, and no visibility, many schools, businesses, and roads closed down. One death was caused due to storm exposure and exhaustion and another death was caused indirectly by a heart attack.
Have a great rest of the week and enjoy the sunshine and warmer temps for tomorrow before rain moves back in.
Sources: https://www.weather.gov/abr/This_Day_in_Weather_History_Mar_22 https://weather.com/news/weather/video/terrifying-dust-devil-destroys-hut-in-laos https://www.weather.gov/fgz/DustDevil#:~:text=These%20dust%2Dfilled%20vortices%2C%20created,a%20few%20minutes%20before%20dissipating.