Today's Forecast
Good morning and happy Wednesday! I hope you've had a great week so far, and enjoyed these warmer temps. Today will continue to be warm with a high near 82. This morning will start out cloudy with a slight chance for some showers. As we go into this afternoon the possibility for thunderstorms and heavy rain increases. Some of these storms will be strong to severe with wind gusts as high as 31 mph. Tonight will mostly be rainy, with the chance for some lingering storms. Thursday will be much cooler with highs in the upper 50s. Showers will remain for most of the morning, but move out by the afternoon, leaving us with a mostly cloudy day.
Recent Wild Weather
As severe weather has recently taken its toll on the central and eastern U.S., one tornado in particular had a rare phenomena surrounding it. Usually, when we think of rainbows, we think of clearing skies following a storm. However, that is not always the case. On April 1, 2023, an EF-3 tornado ripped through Bridgeville and Ellendale, DE with estimated peak winds of 140 mph. As you can see in the image featured below, alongside of the enormous tornado was a beautiful rainbow. A rainbow isn't really a "thing" and it doesn't exist in a particular place. It is an optical illusion that appears when sunlight and atmospheric conditions are just right-and the viewer's position is just right to see it. So, the absolute rarity to see a tornado (which is rare to see in itself), coupled with a rainbow is a pretty spectacular thing.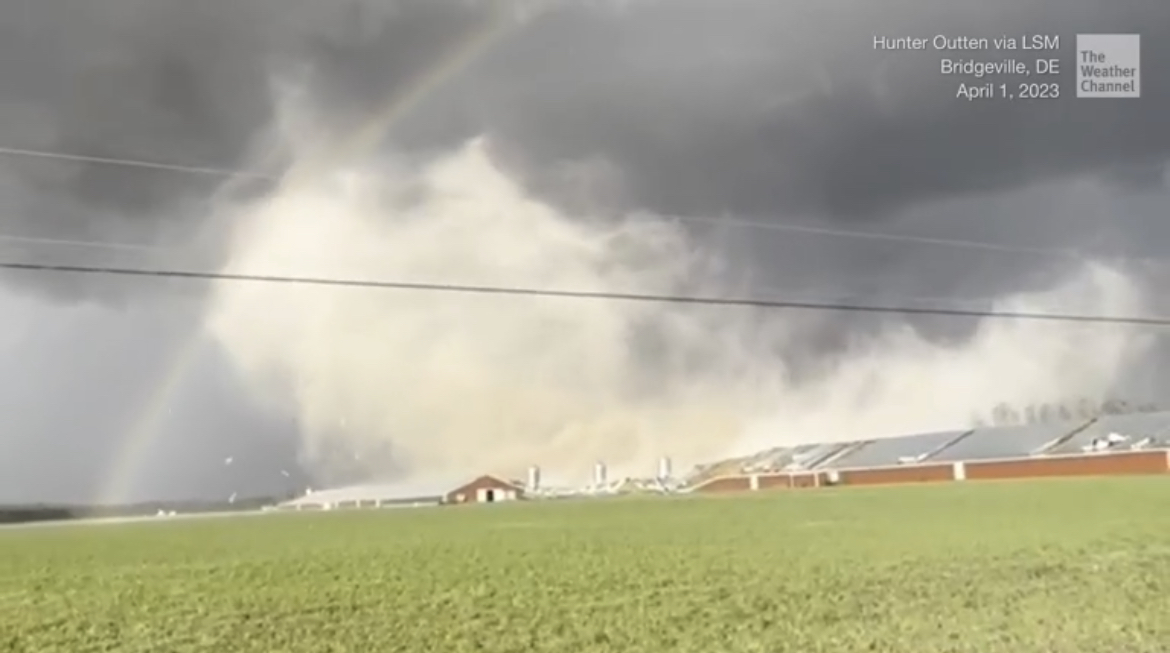 Wild Weather this Day in History
On April 5, 2000 high winds of 35-50 mph and gusts up to 70 mph blew across central and north central South Dakota from late morning to late afternoon. These winds knocked down many trees and branches; damaged many structures, roofs, billboards, and road signs; overturned some mobile homes and tractor-trailers; and caused many power outages. Along with making driving difficult, these winds stirred up dirt, causing visibility to be near zero at times. Along with these very high winds, conditions were very dry. Downed electrical lines caused many burns and fires. This resulted in several thousand acres of grassland, hay bales and haystacks, trees, and fences to be burned.
Have an amazing rest of the week and make sure to stay aware of the weather as some severe storms will move through our area.
Sources: https://www.weather.gov/abr/This_Day_in_Weather_History_Apr_05 https://weather.com/storms/severe/video/full-rainbow-appears-alongside-powerful-roaring-tornado-in-delaware