Today's weather will be similar to yesterday with the exception of a few 500mb shortwaves traveling through the flow. Visible satellite imagery shows this in the form of mid to high level clouds moving into our area this afternoon. The high today will be 86 and a low tonight of 59.
Thursday, both the NAM and GFS are in good agreement of a surface low ejecting out of the southern plains. We will be in the warm sector of this surface low and moisture should be on the increase by Wed night, with resulting cold front moving through Bowling green on Thursday increasing the chance for showers or thundershowers. With increased instability and frontal timing approaching maximum heating, the SPC has put our area under a slight risk for severe thunderstorms on Thursday.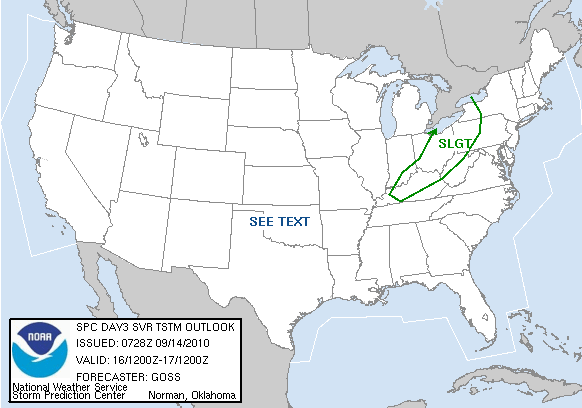 On a side note, hurricane Igor is still a major category 4 hurricane and is expected to have minimal impact on the contiguous United States. This information on Igor and other tropical systems can be found at the National Hurricane Centers website at http://www.nhc.noaa.gov/ .