As mentioned in previous blogs, a clipper system will be advancing from the NW and swinging south into the SE.  Tracks were unknown as of a few days ago, however, models now are now in better  agreeance of a more southerly track which will make our weather here in the mid-south very interesting.  GFS seems to be the model of choice as it kind of splits the other forecast models. Overtime as models come out with new runs, this following forecast could drastically change, as we are still 3-4 days out.
A strong 300 hPa jet stream maxima will be digging on the descending side of the upper trough which will help to deepen the trough bringing with it cold arctic air.  A 500 hPA trough deepens in response and produces a vorticity maxima that over time swings from the central plains into the Arklatex region and then south of Nashville late Saturday night into Sunday.  GFS is pushing a closed 850 hPa low right over Kentucky, along with a surface low through Tennessee.  Now what you generally want for a snow storm is an 850 low to track south of Nashville along with a surface low in central Alabama to allow for moisture to be isentropically lifted over the warm front where overrunning of precipitation occurs.  That over running precipitation wraps around the circulation on the cold side of the low falling in the form of frozen precipitation.
So since the track is directly over us, as of now expect Saturday to be strictly rain with temperatures warming into the upper 40's.  Strong warm air advection is taking place ahead of it allowing for a warm up and rain to be the main source of precipitation.  Anywhere from three-quarters to and inch of liquid precipitation is likely during Saturday.  As the low tracks ENE the area will begin to get dry-slotted from west to east with respect to time which will allow for cold air to build into these areas.  Wrap around moisture will then fall as frozen precipitation and anywhere from 1-3 inches could fall.  It seems Saturday night into early Sunday morning is when things could switch over.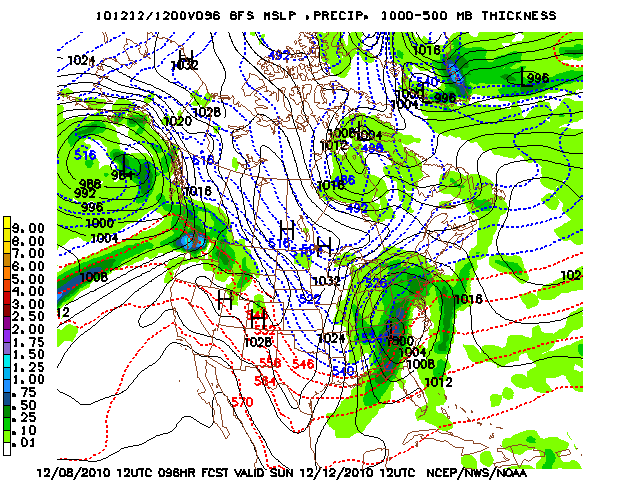 This model image is valid for Sunday 12 UTC taken from the 12 UTC GFS run.  This time is roughly 7 a.m. on Sunday morning.  You can see warm air advected in front of the low and cold air diving south on the backside.
Please keep in mind that any shift in the track of the low will drastically change the forecast. If the low tracks further north than noted in this discussion, that would entail more rain and minimal snow accumulations if any at all.  Most clipper systems such as this one more times then not tend to keep further north, so it will be interesting to see if this does the same.  Or if it tracks further south, precipitation would fall more on the frozen side with snow instead of rain.
We will continue to keep you posted in this situation, as time nears the confidence in the forecast will become stronger.  For now listen to your local weather authorities for their forecast as well.
Secondly, as this storm passes over the weekend very cold arctic air much like this weeks will advect into the region.  Highs on Monday might not even get much above the low 20's and lows Monday night will fall into the single digits it seems.  One thing is for certain, cold air will be prevalent at the start of the week.  If snow is on the ground, that will make for much colder temperatures.