Boy what a difference a few days makes. Latest model runs now provide quite a drastic picture shaping up for this weekends weather. Both the European and GFS as Well As The North American Mesoscale Model, are in pretty good agreement of a more northerly storm track. Confidence has grown in the Model solutions as the system is now in the United States upper air network.
In General the system has taken a more northerly track with a surface cyclogenesis developing in the plains today, and the low moving northeast into the great lakes. Saturday looks to be all rain, and alot of it, as most areas should pick up anywhere from .5 to 1 inch of rain with embedded elevated instability. So, a rumble of thunder, especially into TN can not be ruled out. In the wee hours of the morning as the cold front pushes through, rain should change to snow from west to east as the front pushes through, expect only minor accumulations before dry slotting quickly cause a cease in snow. During the day on Sunday however, snow showers and flurries will be on the increase as wrap around precipitation in the northwesterly flow will cause a fetch of moisture to come off of lake michigan providing Bowling Green with some flurries and the bluegrass region of KY with some minor accumulations.
Here is an image from the 12z model run of the GFS illustrating this.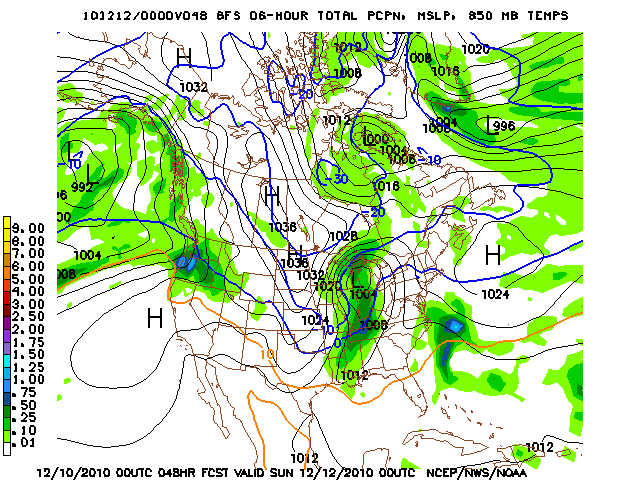 All in all, it will turn drastically cooler on Sunday and Monday with highs in the mid-20s on Sunday and lower 20s on Monday. Overnight lows those nights will also struggle to get into the teens as artic air infiltrates the area.
For Saturday expect up to one inch of rain in Bowling Green with a high of around 50, and after the front moves through Bowling Green should pick up one inch of snow or less, while areas to the northeast should recieve more, with maximum amounts in the blugrass region of ky of around three inches.