Summary:
-Severe weather possible in the early afternoon hours tomorrow
-Damaging winds currently expected to be the main threat
-Cooler temperatures tomorrow night and Tuesday
A strong upper-level trough will eject out of the Rockies tomorrow, leading to the development and intensification of a surface low pressure center in the the Upper Midwest. This will drag a strong cold front through the Bowling Green area during the early afternoon hours tomorrow. Ahead of the front, strong southerly winds will advect warm and moist air into the area, creating at least a modest amount of instability and energy for severe storms to form.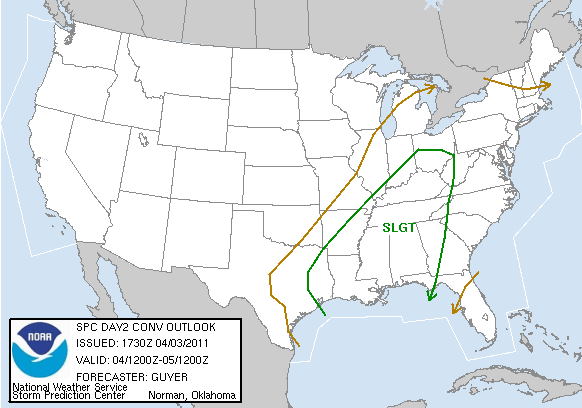 The map above shows where the Storm Prediction Center has outlined a slight risk of severe storms for tomorrow. According to the SPC, there will be a 30% chance of severe weather within 30 miles of a point in the Bowling Green area. Currently, the magnitude of this event is expected to be limited somewhat by a lack of instability and wind profiles that are expected to result in linear rather than discrete convective modes, which favor a damaging straight-line wind threat over a tornado threat. The instability is expected to be held in check by a weakening line of storms that is expected to move in during the morning hours, bringing clouds to the area and limiting heating of the boundary layer. However, if more instability develops than the models forecast and/or wind profiles turn out to be more favorable than expected, a more substantial wind and tornado threat could develop.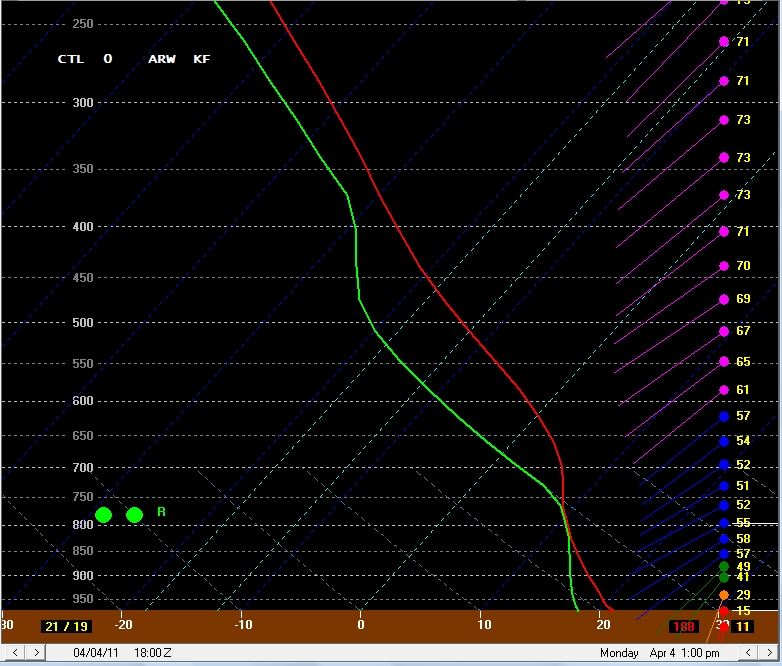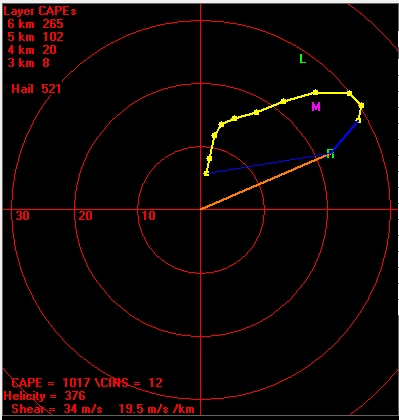 The images above show a model forecast sounding and hodograph from the SREF (Short Range Ensemble Forecast) for 1 PM tomorrow in Bowling Green, just before when the cold front is expected to move through. They show that very strong speed shear will be present, with winds increasing from around 10 knots at the surface to almost 60 knots at the 850 mb level. The winds will veer from southerly at the surface to southwesterly from 850 mb upward, providing good directional shear in the low levels. This favorable shear should compensate at least somewhat for the anticipated lack of instability.