As expected, a large severe weather outbreak took place over the southeastern U.S. yesterday. However, it turned out to be even bigger than expected, with over 1,200 instances of severe weather reported between 7 AM CDT Monday and noon today. Most of these reports were of damaging winds associated with a huge squall line that swept across the Southeast, although 23 tornadoes were also reported. This preliminary tornado count will probably increase over the next few days as storm damage surveys throughout the affected areas differentiate between straight-line wind damage and damage caused by tornadoes.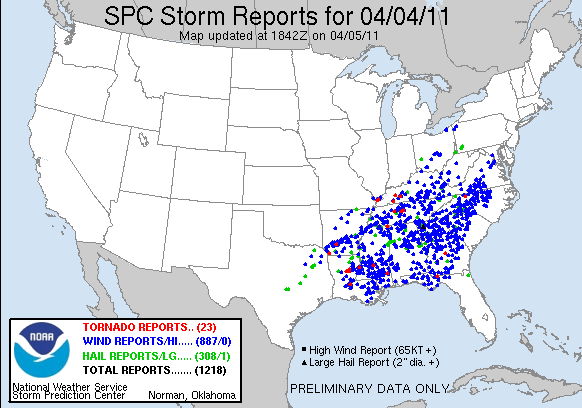 The above map shows that damaging wind reports were widespread in Kentucky, and a few tornadoes were also reported in the state. Most notably, a tornado did significant damage to a manufacturing plant near Hopkinsville, resulting in several minor injuries. Damage surveys conducted today have also confirmed that an EF-1 tornado occurred in southern Butler County and two separate tornadoes in Ballard County, one EF-2 and one EF-1. The Bowling Green area was spared the worst of the storms. Winds gusted to around 40 mph and heavy rain fell when the squall line passed through the area, but no major damage was reported in or near the city.
For Bowling Green, today's cooler weather will be followed by a quick warmup into the low 70s tomorrow and warm conditions throughout the rest of the week. Rain chances return to the forecast on Friday, and there is a possibility for another severe weather outbreak late this weekend. This event is still a long way out though, and the potential for severe storms will be better known later this week.