The severe weather threat for Sunday evening / Monday morning advertised earlier this week now appears to be much smaller than initially thought. Both the GFS and the NAM have pushed back the timing of the cold frontal passage to late morning or early afternoon on Monday, and instability is expected to be very limited when the front moves through. The best dynamics associated with the system are expected to be well to our north, associated with a deep surface low and jet streak in the Great Lakes region. With this in mind, the SPC has dropped the slight risk for the area on Monday. However, the situation still bears watching for possible changes to the forecast, and a good dose of rainfall is also expected with this system.
NAM CAPE forecast for 1 PM CDT Monday, showing limited instability: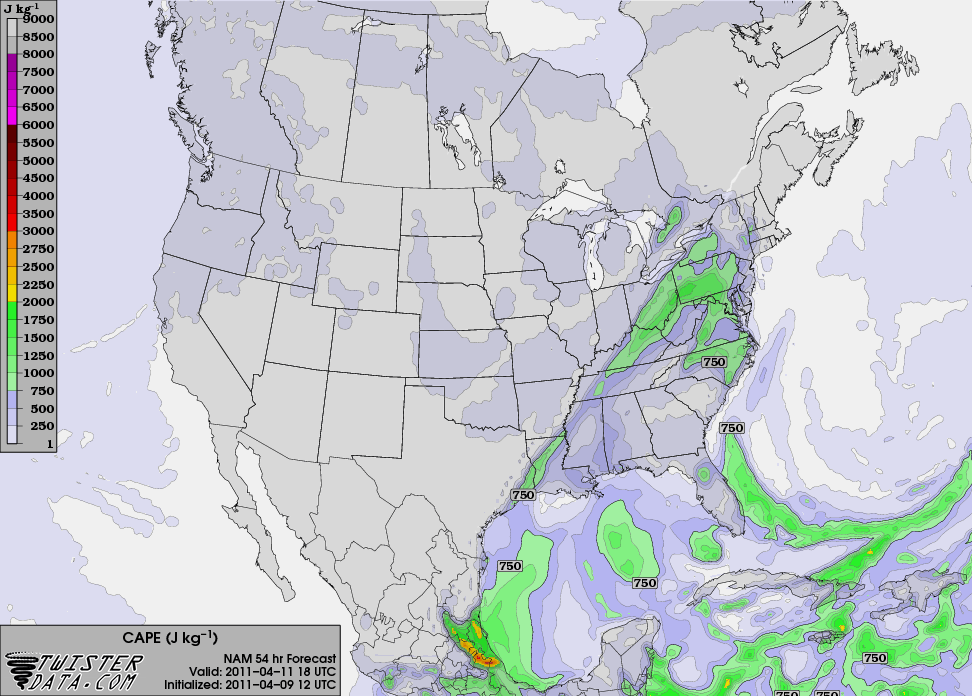 With strong southerly winds ahead of the approaching system tomorrow, temperatures are expected to rise into the upper 80s throughout the state. Bowling Green's record high of 90 has a slight chance of being broken, but records in other locations have a better chance of falling. Louisville's record of 84, Lexington's record of 82, and Frankfort's record of 84 are all in danger. Behind the system, temperatures will be cooler, with highs around 70 expected in Bowling Green on Tuesday.
Although Bowling Green missed out on any severe weather yesterday and this morning, locations in the northern and eastern parts of the state weren't so fortunate. Scattered strong storms tracked through eastern Kentucky yesterday afternoon and produced some large hail and strong winds, and the same area was hit earlier this afternoon by a strong mesoscale convective system with embedded supercells. This powerful storm complex tracked from the Louisville area southeastward into the mountains of eastern Kentucky, producing very large hail and wind / possible tornado damage along its path. Here's a picture of some huge hail in Pike County that fell this afternoon: