Highlights
• Approaching low pressure system will bring clouds Thursday night
• Severe weather threat on Fri, with more moderate/heavy rain possible.
• Highs in mid 50's on Saturday, returning to the 70's by Monday.
Forecast
As convection and severe weather in Oklahoma and Missouri continue overnight, expect high clouds to start streaming into the area overnight. Lows tonight will only get down in the mid to lower 50's under cloudy skies. Friday, conditions are favorable for thundershowers, perhaps with some severe storms later in the day. A surface low pressure system will approach our area on Friday, with winds turning out of the south-east throughout the day. This will help to bring ample moisture into the region, and bring a good chance of rain and thundershowers for Fri morning. With the approaching system, wind fields and cooler heights aloft are supportive of stronger thunderstorms for the afternoon. Because of this, the Storm Prediction Center has placed South-central Kentucky under a slight risk for severe weather Tomorrow.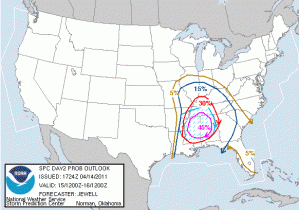 However, severe potential will be limited by early morning thundershowers, with temperatures trying to rebound throughout the day. Should we get ample sunshine are severe threat would increase. Regardless, the main threat appears to be heavy rain falling on already saturated ground, with widespread 2 inch rain totals and continued river flooding is of concern.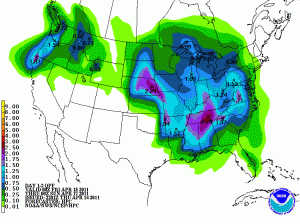 Thunderstorms should come to an end in the late evening as a cold front associated with the aforementioned surface low crosses the region. Saturday looks to be cool and raw with rain ending in the morning and high temps struggling to reach the mid 50's. A return to 70's is expected by Monday.