Patchy fog will be an issue for WKU students this morning, limiting visibility as the day is started. Temperatures start off in the 50s, but will soon climb to the middle 70s as the day goes on. After the fog clears, students and faculty should see a mix of sun and clouds until the mid to late afternoon. Cloudiness should thicken over the next 36 hours as a cold front pushes through.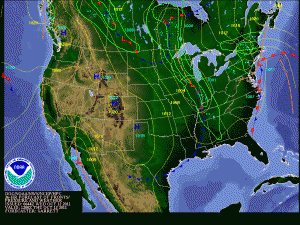 An isolated shower or thunderstorm could be possible later this evening, with the greatest chance of rain being late tonight and early into Thursday morning. Showers accompanied by this passing cold front are not expected to be sever however some of which may have gusty winds or even some small hail. Highs for tommorow are looking to reach the mid 70s once again. As the cold front pushes through, our winds will shift to the northeast and pick up to 15 mph.
According to the GFS and NAM, this weekend is looking to be relatively dry. Temperatures also are forecasted to be a bit cooler than this week has been, only getting up to the mid 60s Friday and Saturday while 70s on Sunday. The weekend should be mainly sunshine with a few lingering clouds.