Since the weather is relatively tame today, we will take a moment to discuss the long term outlook leading into this winter.
For long term climatic outlooks The Climate Prediction Center compares various climactic oscillations as well as atmospheric teleconnections, along with some history, to use past events with similar conditions as an analogy to the current state of the atmosphere.
That being said, the CPC has issued there report for the Central Region of the U.S., which includes KY. From following changes in the El Nino/Southern Oscillation. ENSO and the change in Sea Surface Temperatures across the Pacific Ocean, is considered to be one of the major players in sensible weather here in the United States.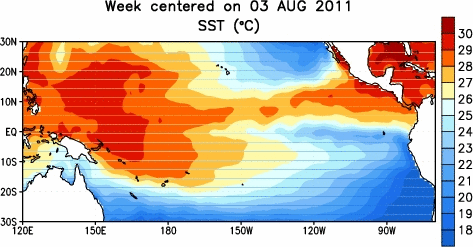 From verifications of SST anomolies and forecasted products from this summer. Modeled guidance as well as the CPC both agree that a weak La Nina will persist and strengthen slightly through the beginning of winter.
Based on prior history and the fact that Texas has had record drought, this will likely cause the polar jet to stay mostly across the northern United States and more zonal causing an above normal chance of precipitation in the Pacific Northwest. This is to be taken with a huge grain of salt, as other factors such as the North Atlantic Oscillation can have changes in the sensible weather from week to week. This is a 3 month forecast.