Currently the Mid-South is sitting on the ascending side of a ridge axis located over New England with a deep positively tilted trough digging over Arizona.  The trough will continue to dig eastward into the southern plains today with a surface low developing in west Texas this afternoon as well.  The low will make its way from Texas northeastward to the Great Lakes region by Tuesday evening.  A closed upper level low over Bermuda is causing the whole synoptic pattern to become quasi-stationary as the upper level low will gradually retrograde westward, inhibiting much eastward progression of the ridge over the Mid-South.  This will cause the trough to continue to dig in the west, eventually not being able to push the ridge causing the low to become negatively tilted and eject northeast towards the Great Lakes. Late Tuesday night into Wednesday morning is when this system will affect our region with possible strong thunderstorms and showers.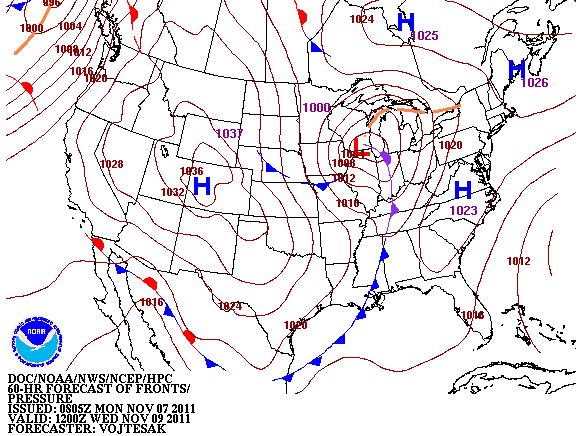 Until the middle of the week, the Mid-South region can expect today and Tuesday to be mild with a high today of 71 and Tuesday 72 as southerly flow starts to develop ahead of this system.  Lows will stay a bit warmer than recent nights due to the southerly flow, expect a low tonight of 47 and Tuesday 51.  Winds will increase through the day to become out of the south at 10 mph with gusts between 15-20 mph possible.  Today and Tuesday we will remain under mostly clear skies as the region remains under a ridge.  Tuesday evening the clouds will start to make its way into the region as the ridge finally pushes eastward and a cold front approaches bringing showers/Thunderstorms to the region after midnight on Tuesday into Wednesday.
There is some severe potential for the region as the vertical shear is quite impressive, however there is little to no instability ahead of the front over the Mid-South.  Will monitor the potential for severe weather and update if needed, but not expecting much in the way of severe weather at the moment.  Models will pick up on what to expect in the coming hours.  The region can expect to see around 0.25″-0.40″ of precipitation from this system Tuesday night and Wednesday.  Wednesday you can expect a high of 60 and a low dropping drastically to 35 overnight with winds around 9 mph from the south before the front and turning west after the frontal passage.