The WKU Storm Chasers rose this morning in Salina, Kansas and, after a gas station breakfast, hit the road south. Our plan was to first drive southwest of Wichita Falls, Texas, where we could reassess the situation.
At 13Z this morning (May 28), a cold front extended through western Oklahoma and north-central Texas. As we drove early this afternoon, a cumulus field formed in a band along the dry line in west Texas as well as along and ahead of the cold front. By 4:15 pm, a few nice towering cumulus clouds had formed near Seymour, Texas. There was good mid and upper level shear of around 30-40 knots, as evidenced by the leaning towers.
Mixed layer CAPE values were around 3000 J/kg, and there was virtually no CIN. By mid-afternoon, temperatures were in the 90s with dewpoints in the 60s.
Cells started popping and strengthening along the boundary, and 2-inch hail was reported four miles west of Greyback, TX. The line continued to move east-southeast, and we tracked one storm in particular. At one point, a clear wall cloud was visible. However, no funnel or tornado seemed likely. Damaging winds and hail were the main threats with this line.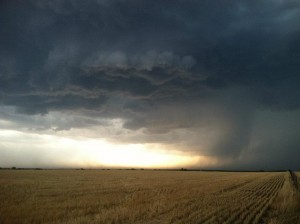 The WKU Storm Chase class did experience a new first today, however. We drove out ahead of the line, parked under the carport at the Pipeliner Inn in Olney, Texas, and let the storm blow over us.
The most memorable portion of the day came during the evening as we made our way back to the hotel. We drove north out in the middle of nowhere in Texas, with the sun setting to our west, when a double rainbow suddenly became visible to the east. It was a double rainbow all the way across the sky. What could it mean? None of us had ever seen violet so vivid. As if that wasn't enough, lightning was lighting up the sky in every direction. Needless to say, some mesmerizing images were shot of lightning along with the double rainbow and sunset. We will stay in Wichita Falls, Texas tonight and shouldn't have to drive too far for action on Tuesday. The SPC currently has a slight risk out for most of central Oklahoma.