We woke up today and had our forecast discussion in Lubbock, TX.  We all did a surface analysis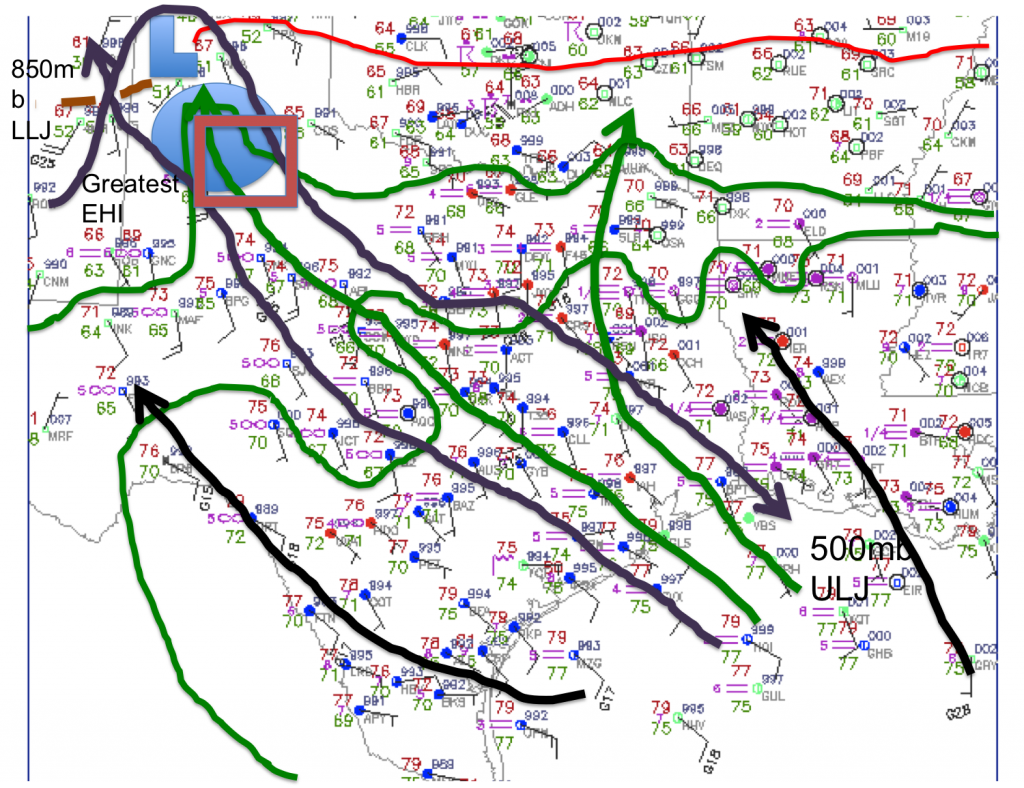 for where we thought our target was going to be.  After the discussion, we all agreed that the area from Lubbock to Childress to Amarillo, TX was going to be the best area for severe weather.  We headed out and stopped in Paducah, TX for lunch and ate at a little hole in the wall drive in.  Our orders took longer than we anticipated, due to the fact that they did not have anything prepared.  By the time we all got our meals, thunderstorms had already initiated northeast of Floydada, which was about an hour away to our west.  We got there once it went severe, even tornado warned.  Despite the warning, this storm did not appear from our vantage point to put down a tornado.  This storm did have a strong inflow, which ingested a lot of dust from the surrounding farm land.  This storm ingested so much dust that the rain from this storm also had mud imbedded within the rain drops.  The outflow of this storm also kicked up so much dust that it caused blackout, more like orange-out, conditions
to where we had to pull off the road and wait for it to pass.  We also saw plenty of land spouts,
gustnadoes,
and dust devils.
We left the storm later due to the fact that it lost its rotation.  By this time, we were near Spur, TX and we changed our mindset from chasing to eating. We decided to go to the Big Texan in Amarillo, TX
for dinner and while we were there, we witnessed someone take on and complete the 72 oz. steak challenge with only 13 seconds left in the hour long challenge.  With bellies full of steak, we all headed our hotel and rested for what is going to be another day of chasing.