We woke up in Ogallala, NE with a slight risk from the SPC covering from western Montana down into Kansas, with large hail being the main threat although tornadoes were still possible. After the usual morning discussion we decided to head to our target area around Spearfish, SD.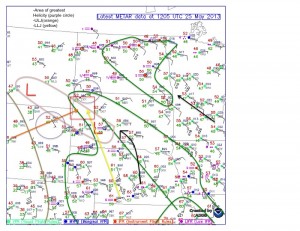 As we approached Sturgis around 2 the first storms started to initiate just to our north. The cell we were initially on began to fall apart rapidly but recycled itself, just as it continued to do for the rest of the afternoon. We ended up staying on the same quasi-stationary cell for 7 hours, traveling only 50 miles to stay with it!
With each recycle, the supercell became more structured with hail up to 2.5 inches.
At times the RFD would dominate the cell causing it to gust out.
We chased the cell until we ran out of road to safely navigate with it, so we set up to watch the storm pass as the sunset behind it.
With the passing of the storm we were able to see the entire updraft as it was illuminated by the sunset. Dr. Durkee was able to capture some amazing pictures of this almost surreal set up.
After this photogenic storm day we headed back to Spearfish to our hotel to set up for the next day.