We began the morning in Andover, KS.  The SPC had issued a moderate risk over much of the eastern panhandle of Texas into parts of western Oklahoma, and extended up slightly into southwestern Nebraska.  After our morning discussion we decided to head towards the Woodward, OK area.
Upper level wind speeds were favorable along with sufficient moisture, lift and instability across the area near Woodward.  However there was the chance that storms could become linear as some of the large scale lift and moisture convergence slightly hinted at this, which would decrease the chance for any isolated supercell development.  This seemed to be the case as we headed towards Wheeler, TX around 3:30 pm and spent most of the day staying ahead and observing this squall line.  The cell we were observing had a tornado warning but did not last long as it lost rotation strength fairly quickly.  We stayed with this storm for a while as the structure was still pretty nice looking.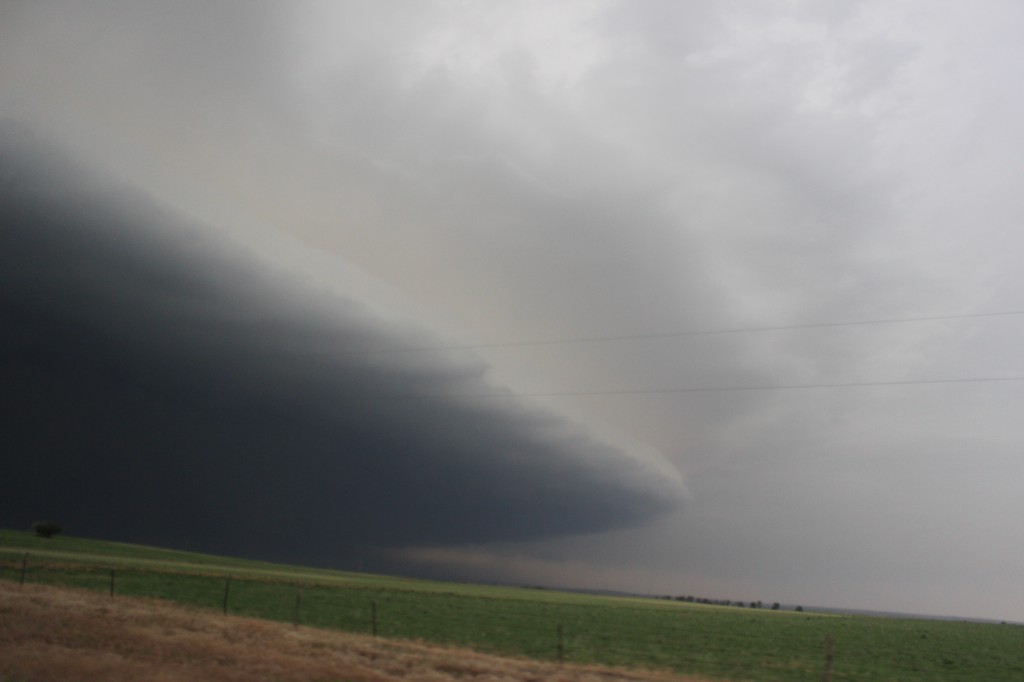 As this storm seemed to lose intensity we moved out of position to look over data a little while longer until we noticed a cell just south of Elk City, OK.  As we arrived on this cell it was tornado warned for a short while before losing strength fairly quickly.
This was a screen shot of the base reflectivity and base velocity of this storm just after the tornado warning lifted.  There was still some rotation as you can see with the couplet in the velocity image, however nothing dropped as the rotation lost strength.
We finally started heading back towards the hotel for the night and around 9:05 pm there was a possible, brief sighting of a rope tornado near New Cordell, OK.  There is still no confirmation on this tornado so as of now it is just speculation.
Today was a fairly busy day driving with high expectations as the SPC had painted a good chance for severe storms.  We did not encounter any extreme supercells, though we did still see some excellent structure and observed a couple storms as they were tornado warned.