We started our day by leaving from Lawrence, KS at 7am. A forecast discussion was conducted on the road and Cheyenne, WY was chosen for the target area. We stopped in Kearney, NE for lunch at Jimmy Johns and ate on the way. After lunch, the decision was made on whether to head west or north. We decided to head west into Colorado then head north into Nebraska. Two cells fired up in western Nebraska and we began our chase on the top cell. We met up with the cell in Scottsbluff, NE and followed it just east of the area.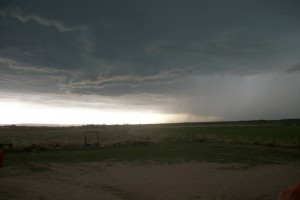 Storm located north of Scottsbluff, NE.
At the storms peak, we were located just north of Scottsburg. A severe thunderstorm warning had been issued on the cell and the road network north of Scottsburg was becoming quite scarce. The storm was heading due east toward us, and instead of ending the chase we decided to let the storm come over us. Hail was associated with the storm, therefore we had to seek shelter for ourselves and the van. We came across a local farmer's garage, and after some persuasion the farmer let us seek shelter in his garage.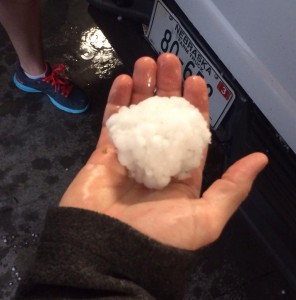 Ball of hail from a storm located north of Scottsbluff, NE.
We experienced hail, high winds, and intense lightning. After the storm was over, we headed toward the southeastern edge of the storm. While on our way down, we encountered hail covered roads which looked similar to a snow covered road. We stopped one last time just outside of Scottsbluff to watch the storm and eat dinner. After this, we headed back to our initial target of Cheyenne, WY. We got to our hotel around 9:30pm.