Today the team woke up in Odessa, Texas once again. Around 10:30 am we headed to our target area of Big Springs, Texas. Here is the surface map for Monday: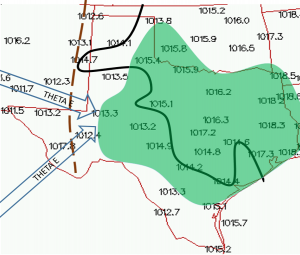 The set up seemed very similar to the past few chase days.  The cut off low finally moved just north of our target area, which provided us with plenty of upper level support to sustain single cell thunderstorms. There was a nice amount of shear, and CAPE values to provide instability and lift in order to trigger thunderstorm development. A shortwave also was right over the target area, which also provided as a lifting mechanism. A dry line was moving in from our west which eventually stalled, and an outflow boundary approached from the north. The lower level jet stream was out of the SE which brought in plenty of moisture from the Gulf of Mexico into central and southern Texas. Due to overcast skies we decided to target Big Springs, Texas, due to the location and the gradual clearing of clouds westward. Big Springs acted as a pivot point to several cities that had potential for storm development, and had a decent road network in every direction.
We grabbed lunch at a large truck stop in Big Springs which offered both Popeyes and Subway. We ate in the restaurant and gassed up the van, and then proceeded to a park to kill time to wait for storm initiation. Around 2pm a cell popped up to our northwest, and it was only about a 30 minute drive from Big Springs. We all piled up in the van , and headed eastward towards the cell which became tornado warned while we were traveling towards it.  We intercepted the Supercell just as it passed north of Patricia,TX. the cell was very large and rotating.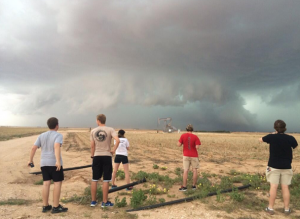 This cell produced several funnel clouds, but we did not see one reach the ground. Just as this cell was gusting out, a new cell was strengthening on radar just southwest of our location. We were on the hunt once again! The second cell was just west of Sterling City,TX. Approaching the cell was difficult due to a poor road network and a drastic change in terrain, which hindered our view of the storm.  Once the storm was in view it was beautiful.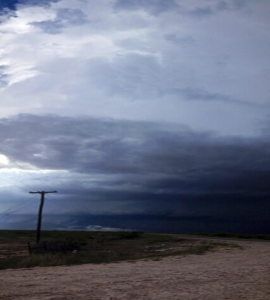 We then proceeded  east and watched the cell outside of a rest area east of Sterling City. It was a textbook supercell with very beautiful color.

After watching that cell move southeast, we then headed towards our stop for the night in Lubbock, TX. As the sun was setting we were treated to a beautiful view of mammatus clouds along the interstate.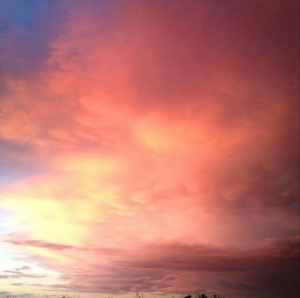 Today was a very successful chase day in Texas. We saw some beautiful rotating supercells and a great sunset to top off our day. We headed to Lubbock, preparing for a 17 hour trek to Buffalo, Wyoming the next day in order to chase storms in Montana on Wednesday.