I hope everyone is having a good day today! There was a bit of a chilly start this morning but it quickly warmed up. The next few days will remain pretty warm with temperatures in the upper 70s and even 80 for Wednesday. We can thank the southerly winds for these temperatures! Do keep an eye out today through Thursday night as it will be pretty breezy! This afternoon could see winds peak at 16 mph. Keep a good grip on your ball cap! Tomorrow looks to be a little lighter but not by much as winds peak at 14 mph. Thursday will hold the highest winds ranging from 10 to 20 mph, with gusts as high as 32 mph according to the National Weather Service. Now what does all this mean in terms of everyday life? Here's a chart showing what winds can do at different speeds.
Today and tomorrow you'll want to keep a good grip on any papers in hand but it won't be too bad. Thursday's winds could cause large branches and even the whole tree to sway. With this does come the possibility of trees coming down as well as power lines so keep an eye out for potential power outages.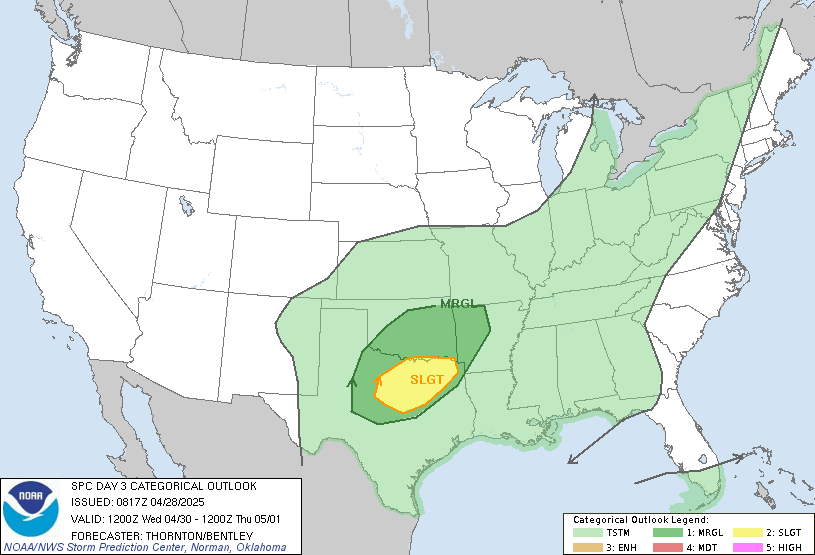 The good news is we have been downgraded to a marginal risk for severe weather. Keep in mind that this doesn't mean we couldn't still see something severe. Right now it looks like we will get around a tenth to a quarter of an inch of rain during the day Thursday with the majority of the rain falling at night. It's expected that one to two inches will fall at night.
Overall it will be nice a nice start to the week we'll just have to deal with some more rain and storms later on. Everything will clear out Saturday night to leave a beautiful Sunday. The grass could still be a little too soggy for Easter egg hunts but otherwise it will be a great day!
SUMMARY:

Tuesday:

High: 79
Low: 56
It will get pretty windy towards the afternoon.

Wednesday:

High: 80
Low: 60
We will start seeing more clouds roll in for Thursday's showers and storms. It will remain fairly breezy.

Thursday:

High: 74
Low: 50
It will be pretty windy with winds peaking at 32 mph. Showers and storms will likely start in the afternoon hours and continue through Friday. Storms could have the potential to be severe especially with the high wind gusts.
Stay safe and have a great week!
I hope everyone has a great Easter!!