January 26th-28th marked the 10th anniversary of what Governor Steve Beshear described as the worst natural disaster in modern Kentucky history. This storm knocked out power for over 2 million people, caused dozens of deaths related to cars or improperly used generators, and closed schools a week or more in some places. It dropped between a 1/4″ to 2″ of ice over a span of hundreds of square miles and ended with snow accumulations upwards of 4-6 inches for already hard hit areas. Those located further north and not impacted as much by the ice saw snow accumulations of 10+ inches, such as in southern Indiana.
A few facts about the weather set-up/requirements for this storm:
There was sub-freezing air over the Midwest and Central plains for a couple days before the event. This primed the roads and power lines and most surfaces in general for ice accumulation. The cold air remained in place at the surface (between 29 and 33 degreees Fahrenheit for most places), while warm air began to move in around 5,000 feet above the surface. This warm air was associated with a stationary front from the South that stopped right around Central Tennessee. Because warm, moist air is less dense than cold air, it literally ran up and over the cold air at the surface. As the air mass is forced higher in the atmosphere, it expands and cools, the water vapor condenses on tiny particulates in the atmosphere, and eventually becomes to heavy to stay up there. This air between 700mb and 850mb was about 5 degrees Celsius (freezing in Celsius is at 0 degrees), thus the precipitation fell primarily as super-cooled rain. Even though it passed through about 5,000 feet of sub-freezing air, it didn't have quite enough time to change over to sleet or snow. All it took was that frozen surface for it to immediately freeze on impact.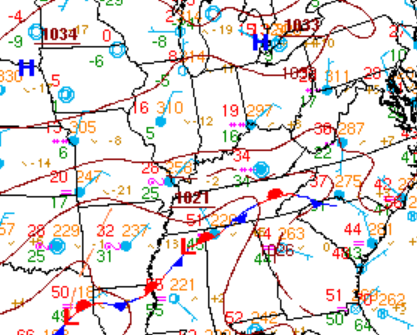 Here are some pictures provided by the National Weather Service in Louisville along with maps generated to show ice and snow accumulations throughout the state.