It was another early start for the WKU storm chasers as we planned to drive from Salina, KS to Texas. Our target for the day was Gainesville, TX, which is north of Dallas. It was a 6 hour drive, and storms were initiating early in the morning.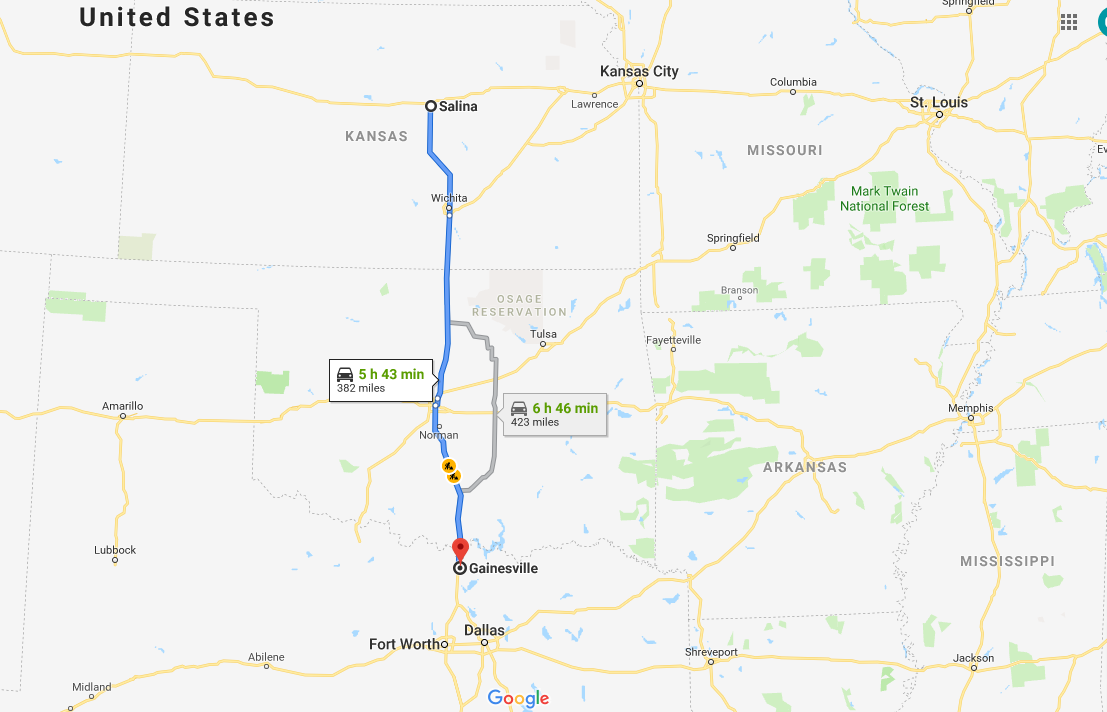 We knew this chase day was going to be a bit different, because we will be showing up to our target as storms are already occurring. The Storm Prediction had yet another Convective Outlook across Texas and Oklahoma. We were focused on the Enhanced Risk, a level 3 out of 5 for severe weather.
Atmospheric Set up and Target Decision
This active pattern continued today with ample shear, lifting, instability, and moisture. We have chased every day except the day we drove from Hays, KS to Amarillo, TX to prepare for the High Risk day. While we prefer to chase further west in Texas, specifically the Panhandle, we would not make it there in time for storms. Instead, we chose to go just north of Dallas, and arrive as storms were already going on. This area is challenging though, as there is a lot of traffic and many trees. We decided to go for the area anyway, and made it work out well.
We made a very quick stop for lunch in Moore, OK. We all preordered Jimmy John's and had them waiting for us when we pulled in the parking lot. It's tricky eating a tasty sub in the van going down I-35, but we had storms to see.
Chase
Immediately as we arrived in Gainesville, TX, there was already a severe thunderstorms. We found a storm cell we liked on radar, and decided to chase it near Josephine and Nevada, TX.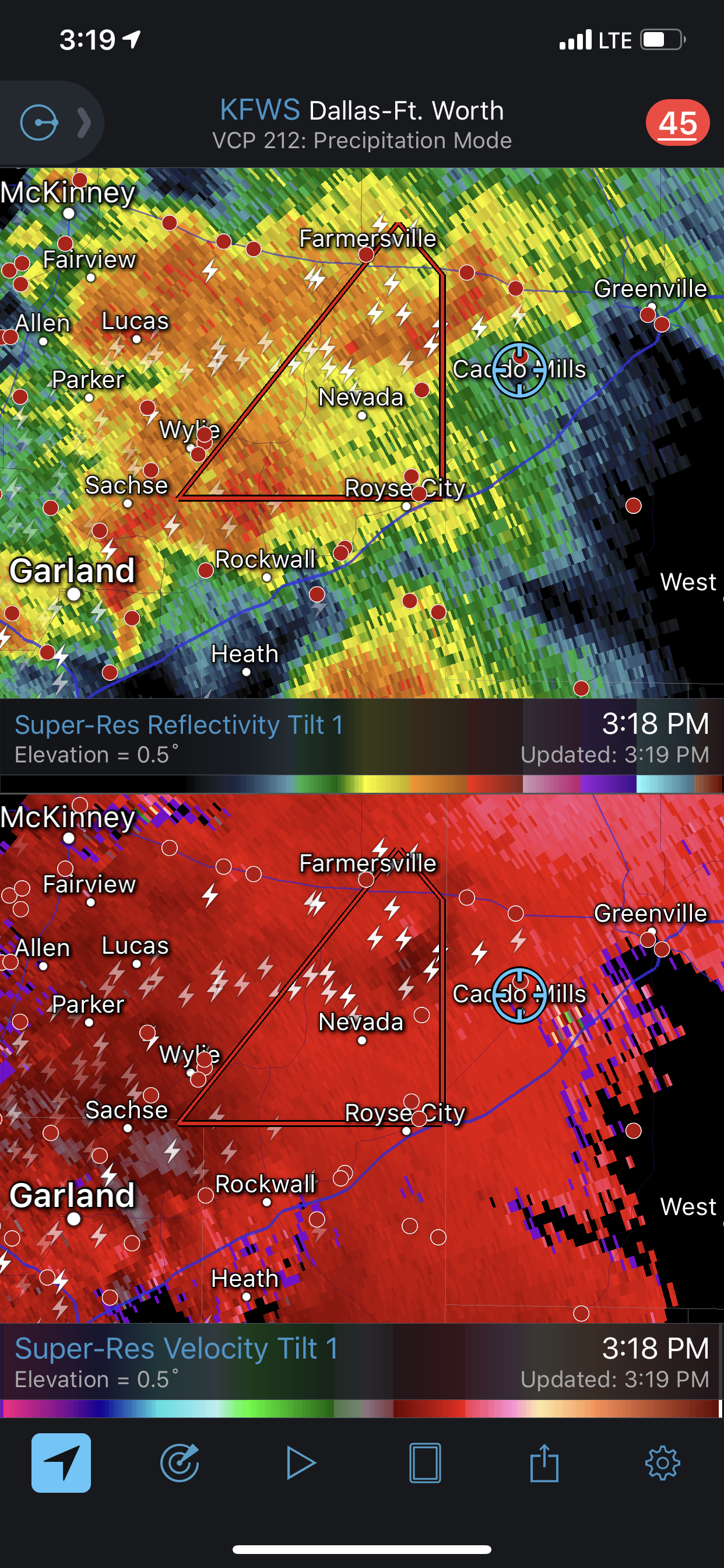 We tried to find a good area to get better visibility of the storm, and after doing so, we were able to spot a funnel cloud. Can you spot the funnel cloud?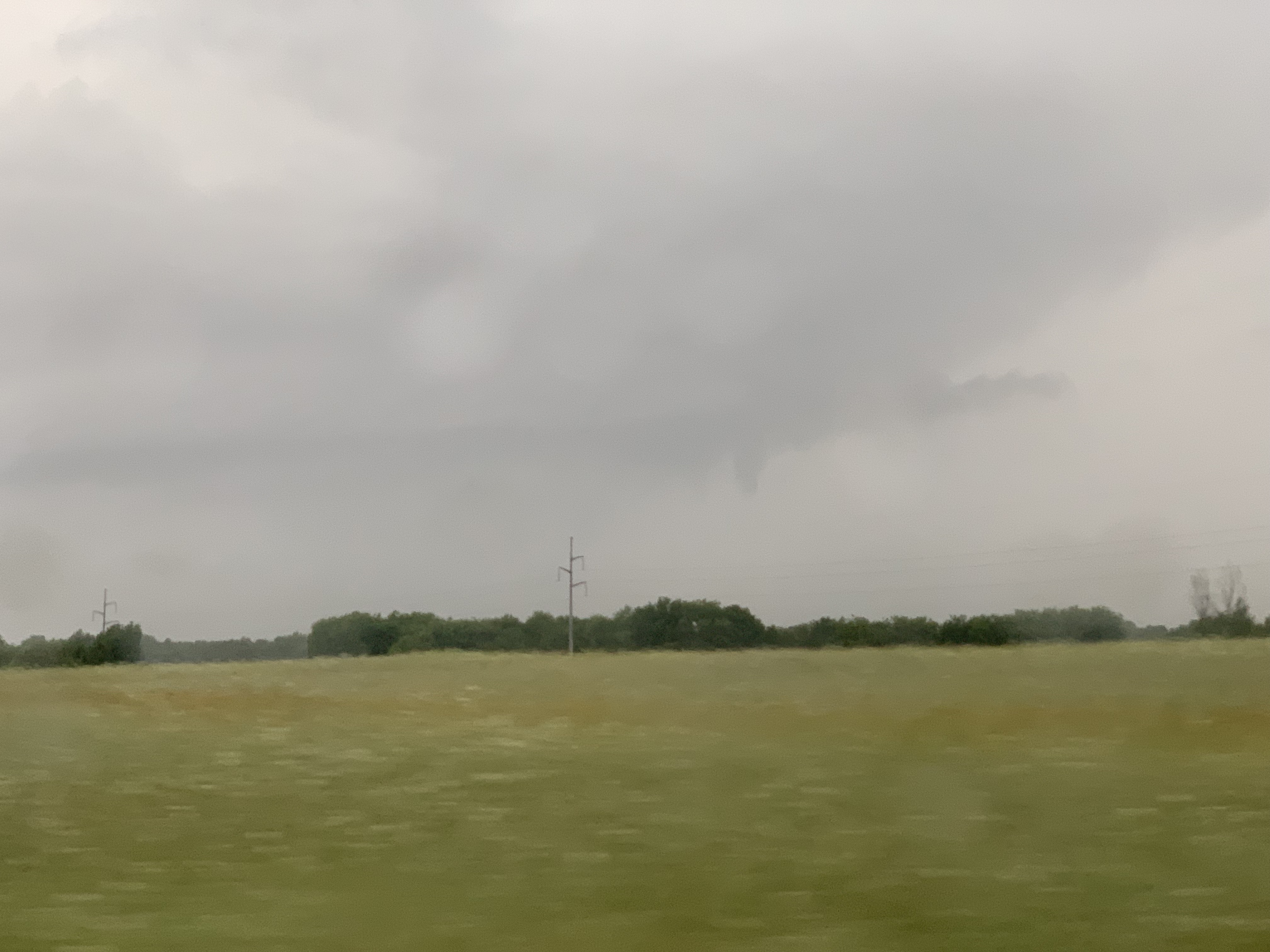 We continued to chase this cell, and eventually saw some ground circulations. These were possibly landspouts, but could have also been very weak tornadoes. We continued to chase, and then ran into more visibility problems.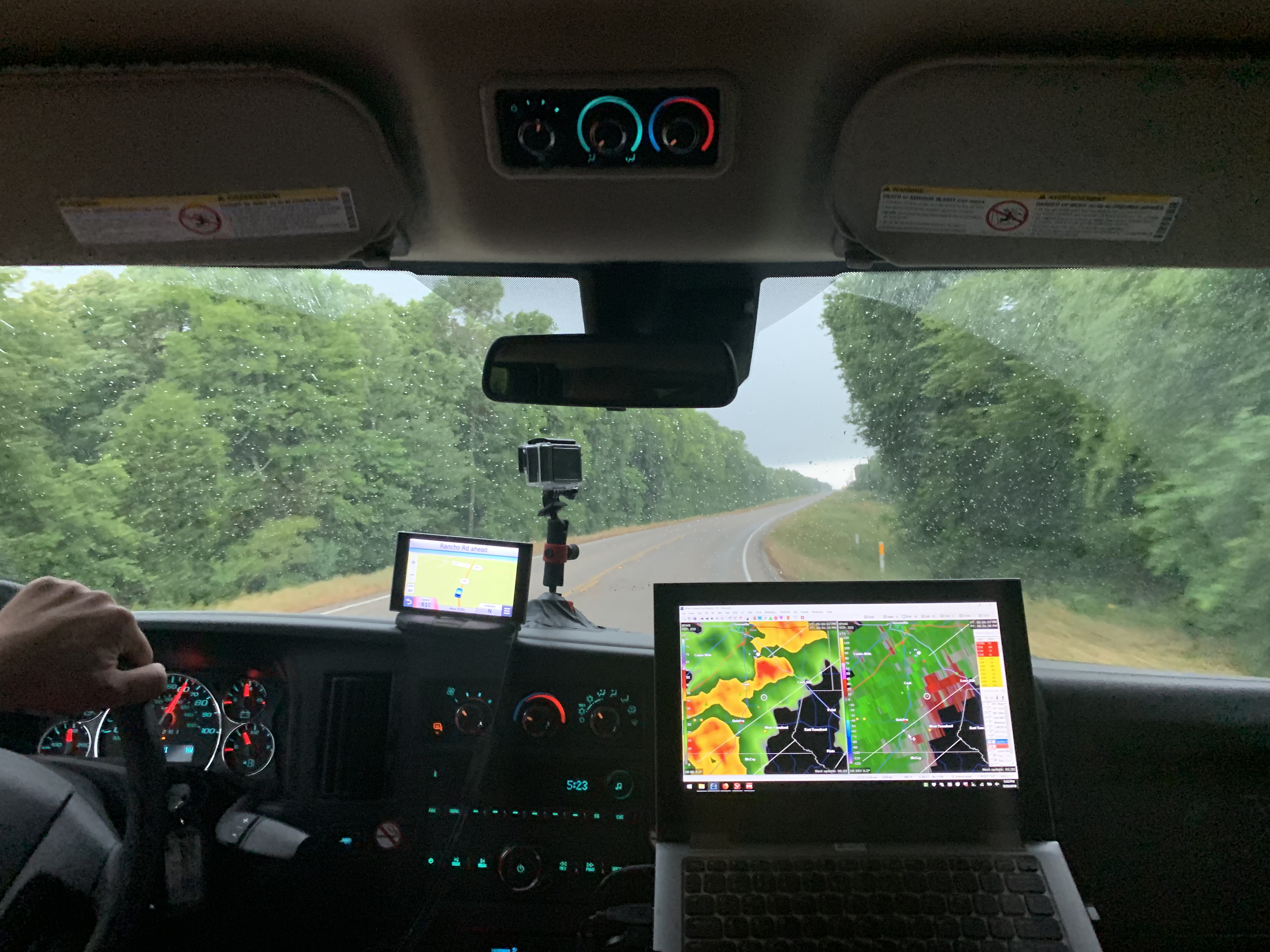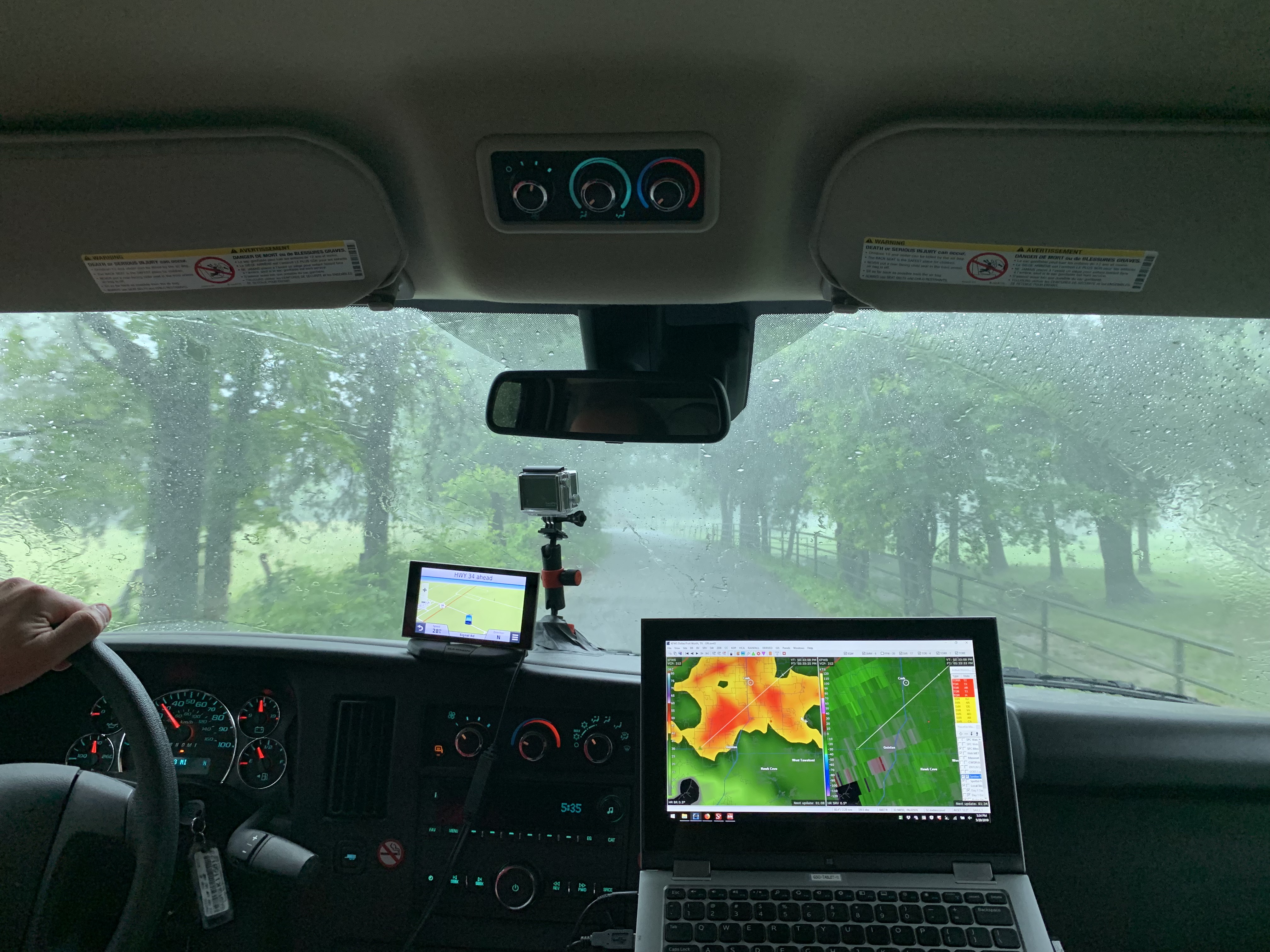 We continued to chase east of Dallas, near Canton, TX. There was a reported tornado, but we did not get a visual of it. Instead, we begin to see some minor tornado damage, and had to take alternate routes while trying to navigate around the storm. We had to turn around a few times due to road closures.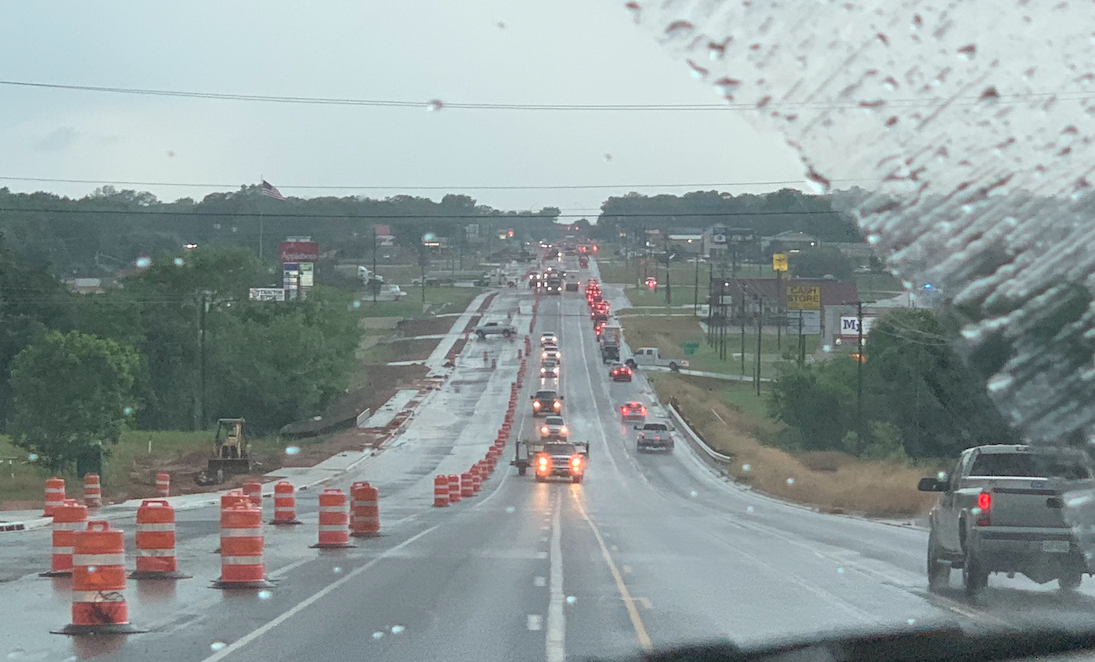 Now well east of Dallas, we continued southward, chasing storms with decent rotation but impressive lightning. We captured quite a few lightning strikes rather close to the van.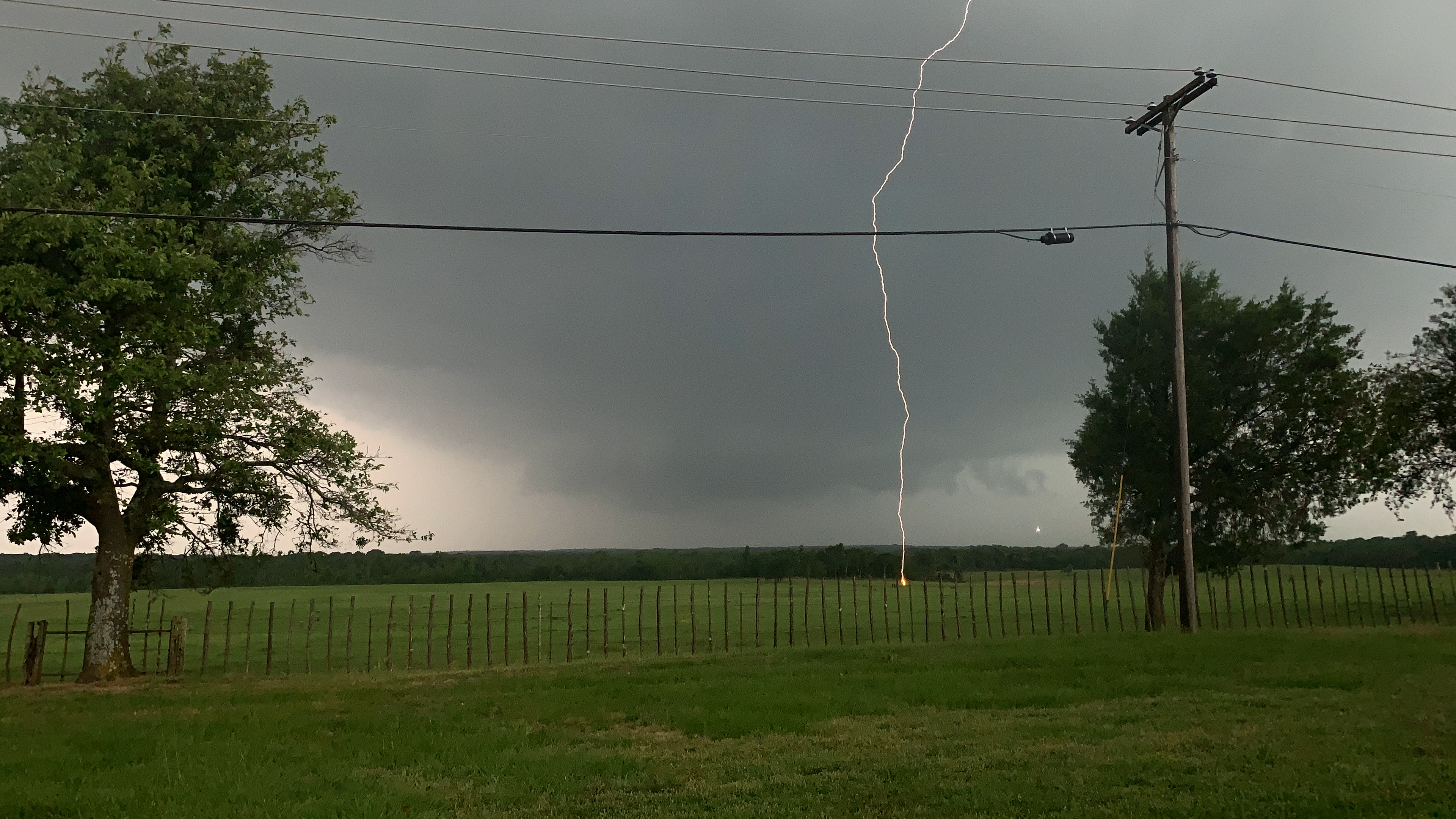 In the picture above, you can see the fireball that the lightning created from contact with the ground.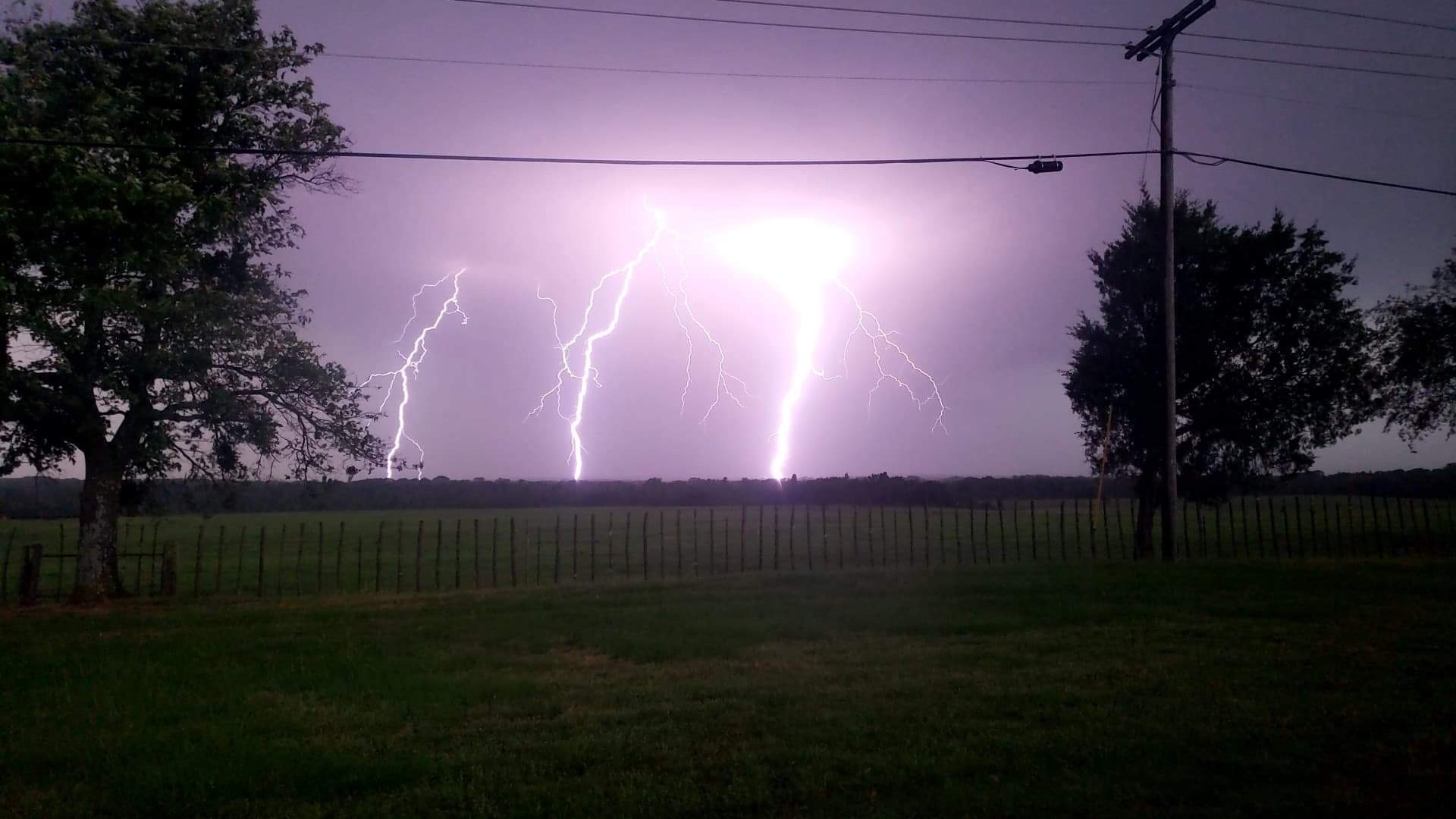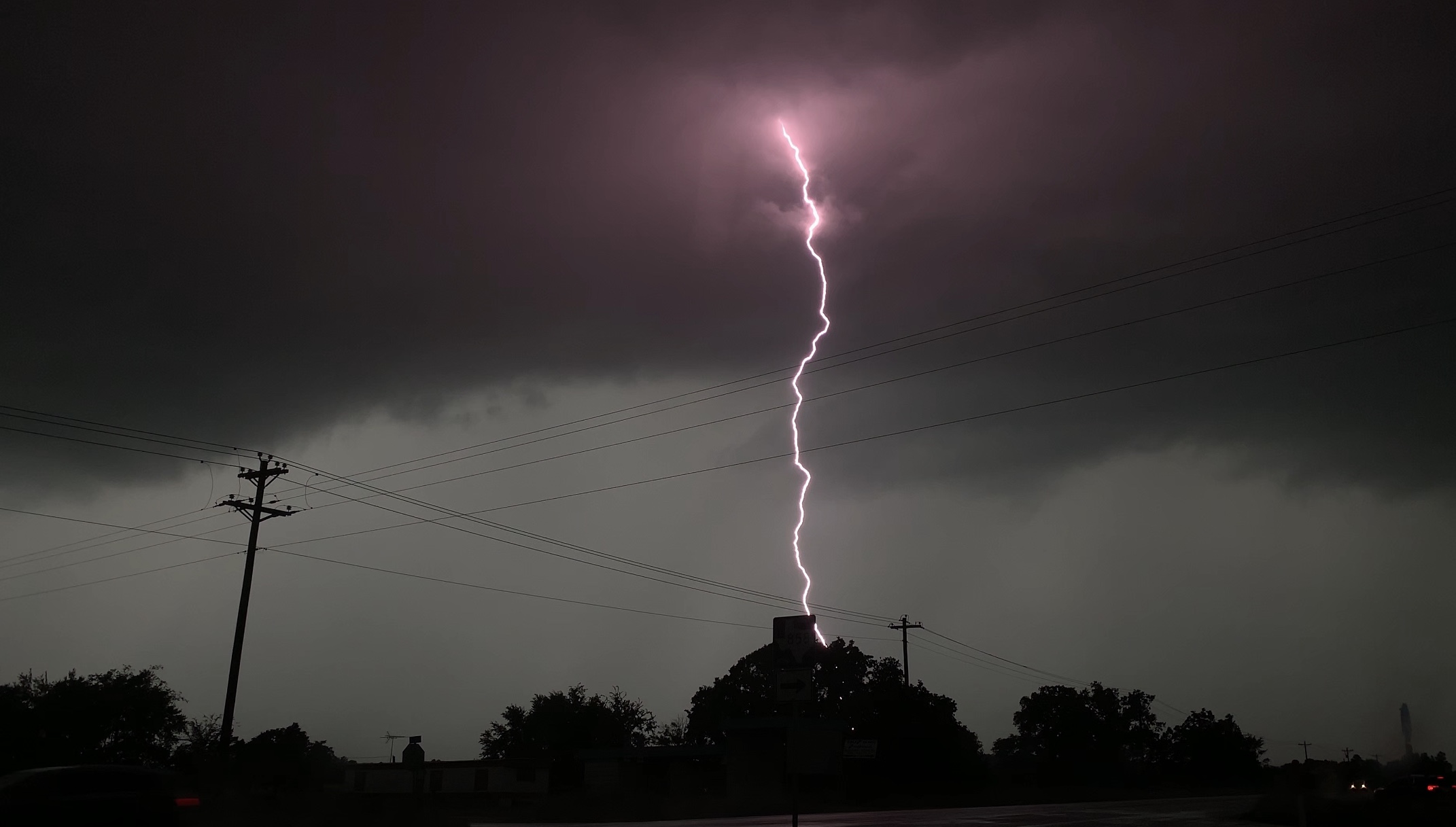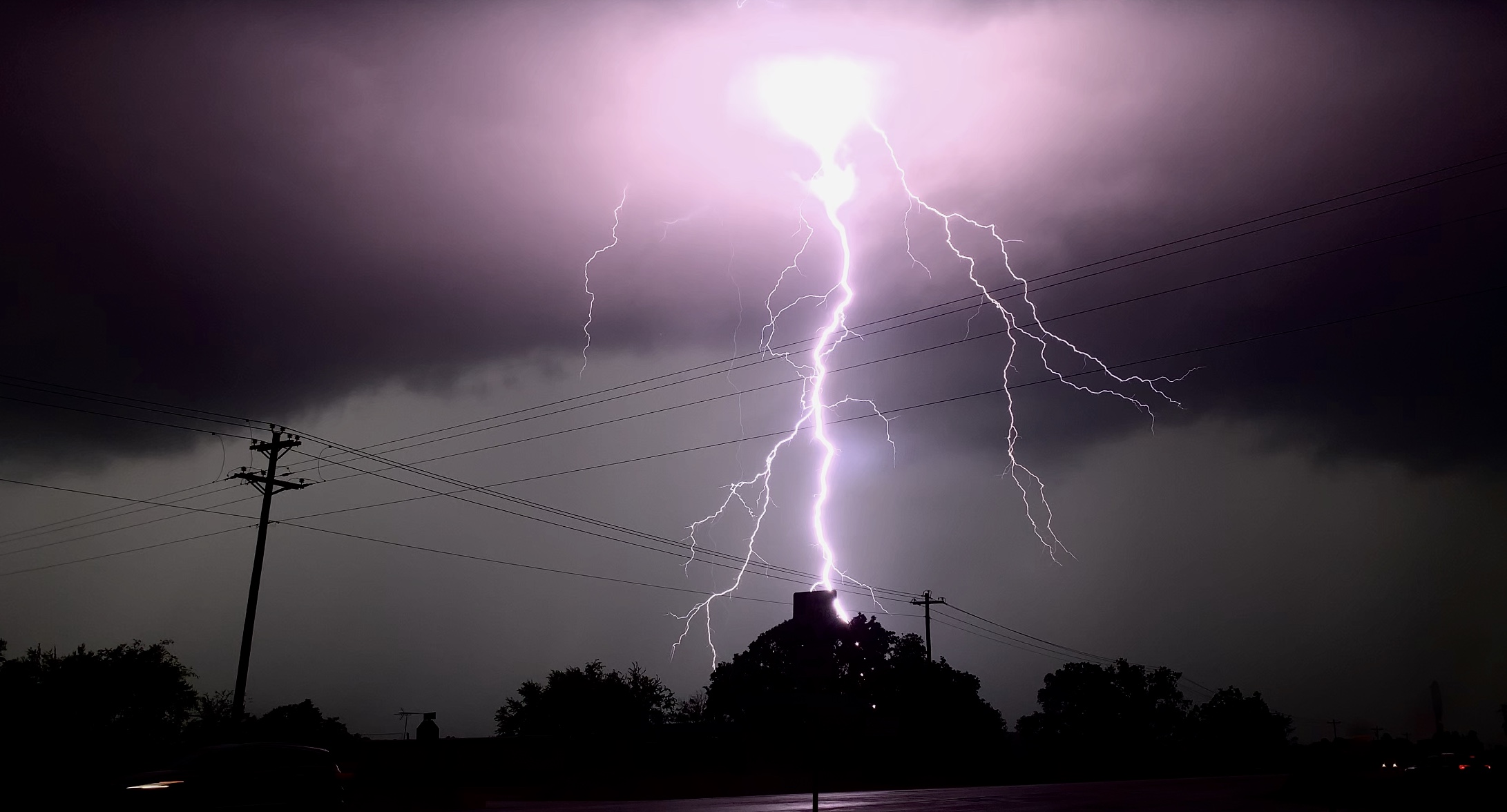 As you can see from the radar, there were lightning flashes surrounding us. We stayed in the van for safety, but the entire van would shake each time the thunder roared. It was such an amazing experience to see lightning like this.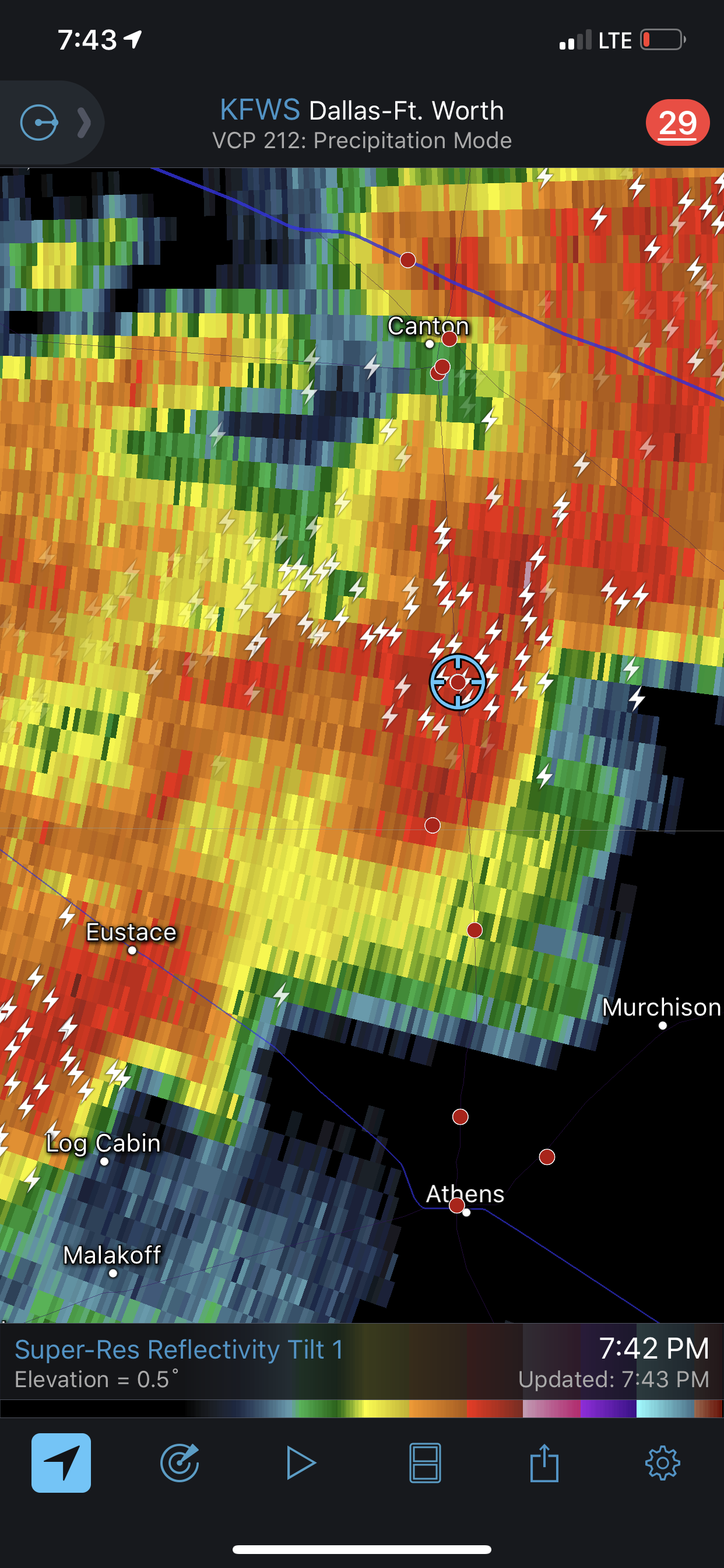 We ended our day by driving to the hotel in Athens, TX. We decided to celebrate the epic day by going out to the Jalapeño Tree.
We chased a total of 7 different storms in a relatively small area with low visibility. Overall, it was another great chase day. We saw more funnel clouds, ground circulations, and epic lightning. Thanks for stopping by, and make sure to follow @wkustormchase on Twitter for current updates.