I came to WKU this morning as usual by my motorbike but this time I felt sharp pain in my ears because the temperature was 32°F (0 °C) when I was riding the bike. I think I will stop coming by this way and start using the bus. 
It is sunny right now but cold, the temperature won't rise up too much this afternoon but in low 40s °F. the night will be extremely cold and low temperature will be upper 20s °F. it is clear and dry due to a strong high pressure over the Mississippi Valley and will move to Ohio Valley later on (see figure 1).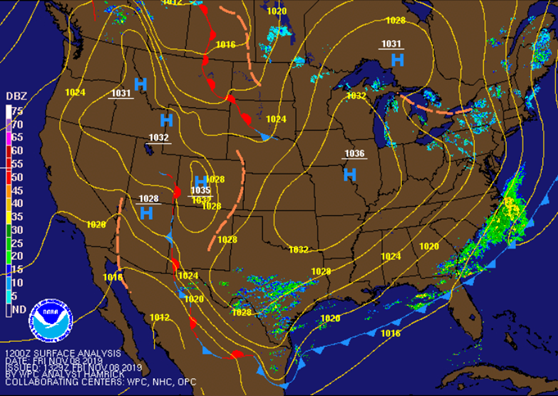 I prefer this time to look at SPC surface plumes to see how the temperature will oscillates during this weekend (see figure 2). All weather modules almost agree that the temperature will drop off below 0 °C this night to low 23 °F. Then the temperature will rise up on Saturday to high near 52 °F and upper 50 by Sunday due to moving the high pressure to the east. This movement will allow to warm up the area through this weekend but the low will touch again the freezing point, as plume curve shows at 6Z to 12Z. Monday will be another story because we might see snow after rain at night due to upper level flow will deepen upper level trough  and a cold front will push southeast at the same time.

Summary
| | | | |
| --- | --- | --- | --- |
| Day and time | Condition | High(°F) | Low (°F) |
| Tonight | Clear | | 23 |
| Saturday | Sunny | 52 | |
| Saturday Night | Mostly clear | | 34 |
| Sunday | Sunny | 60 | |
| Sunday Night  | Mostly Cloudy | | 40 |