Good morning everyone!
Today will definitely be a big warm-up compared to what we've had recently. Those warm temperatures are coming from winds coming in from the Atlantic coast and wrapping around the high pressures in the east.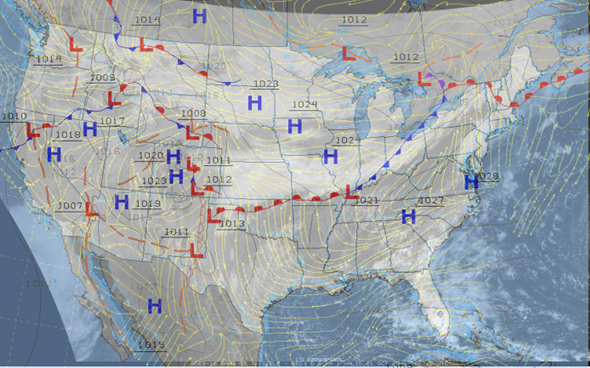 Models are in general agreeance with the high temperatures for the next few days but are a little more conflicting with the lows and precipitation amounts for Friday. A high pressure system in southern Canada looks to be squeezed southeast into the US by a deepening low in northeast Canada and a high system in the western US. That high pressure system that is squeezed into the US along with the deepening trough from Canada will push the cold front across us Friday into Saturday. We won't feel any impacts on the temperature until Saturday, but there is the chance for some light precipitation ahead of the front on Friday. Rain looks to be light but to start in the afternoon hours of Friday and last through until Saturday night.
SUMMARY:

Wednesday
Thursday
Friday

High: 78
Low: 58
Precip: .25 inch
Have a fun, safe, and healthy week!