Good morning, folks, and happy Friday!
Today's Forecast
For today, there are going to be multiple rounds of showers and thunderstorms. This morning, rain and thunder will persist until around noon. After noon, conditions will clear up for the most part, with afternoon temps maxing out near 70. This evening into tonight, a chance for severe thunderstorms begins. The SPC has placed Bowling Green and surrounding areas under an "Enhanced" risk level for severe weather.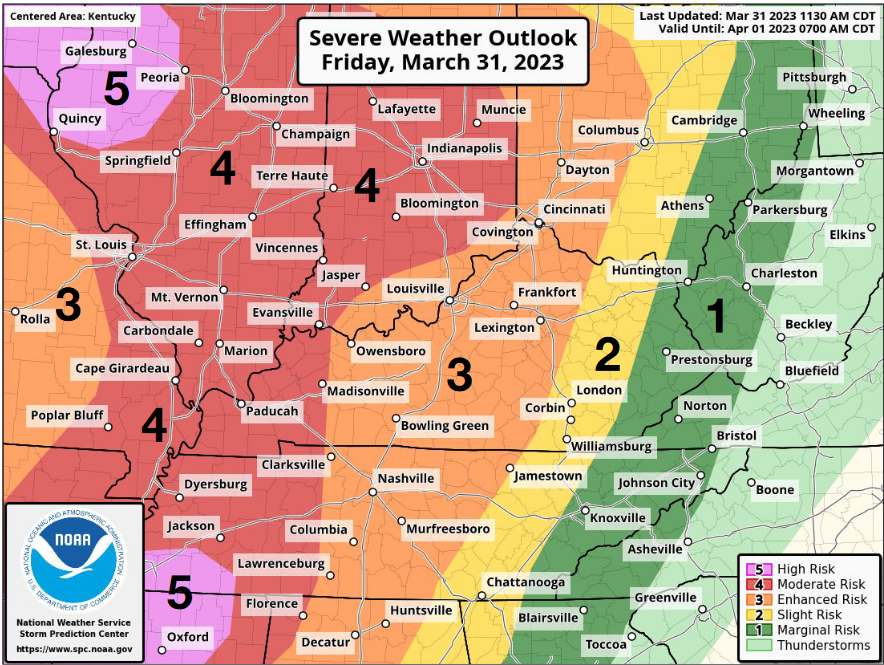 Per the SPC, "Central Kentucky can expect more scattered instances of damaging wind and tornado threat late evening/overnight." It is vital to stay attentive to the weather conditions tonight as the second round of storms develops.
What to Watch For
For tomorrow, we will dry things out around the area, but we will be left with some rather gusty conditions. Overnight, a wind advisory will in effect through Saturday for winds that could occasionally gust over 40mph. Otherwise, temperatures will be in the low 60s with abundant sunshine. Overnight, winds die down with clear skies, as temperatures in the mid 30s present a frost potential. Sunday looks pleasant with less wind, as highs will once again be in the low 60s with full sunshine. Next week looks potentially rainy, with at least slight rain chances every day next week.
Weather Fact!
Not really a fact, but more of a remembrance. Today marks 475 days since Bowling Green and the Western Kentucky University communities were struck by an EF-3 and EF-2 tornado. The memory of that event is still very much alive and present within the community as businesses and families are still rebuilding from that event. Traveling the 31W bypass that was among the areas directly hit by the tornado, not even a quarter mile from my college home, is still a surreal experience. It is a constant reminder of the gravity of these weather forecasts that I write, and how truly devastating severe weather can be.
Stay safe and stay alert tonight everyone.