Today's Forecast
Good morning and happy Wednesday! I hope everyone has had a great week so far and are enjoying these cooler temps as we get closer to fall. As the last little bit of rain moves out of the area, sunny skies and cooler temps are expected to continue into this weekend. The cold front that triggered these sparse showers will aid in the cooling of the air and clear skies. With lower dew points, fog may form in some areas, but other than that, nothing else is on track to occur. Highs today are expected to reach the upper 70s and lows are expected to reach the lower 50s. Tomorrow expect temps to remain around the same as today.
Recent Wild Weather
Last week in Chippewa Flowage, Wisconsin, residents had to come together to push a giant floating island, or bog, to a new location. A bog is a floating freshwater wetland consisting of mud, vegetation, and wildlife. Bogs are typically found in cooler northern climates and tend to form in poorly draining bodies of water. They take hundreds to thousands of years to form and can remain on the surface of the water like an island, or sink completely to the bottom. Bogs are formed when lakes slowly fill with vegetation and (due to poor drainage) the flooding prevents a healthy flow of oxygen from the atmosphere. These bogs create islands capable of holding all sorts of plant and animal life. The larger bogs that form islands can become a nuisance at times due to the way that they drift about during times of heavy rains and high winds. However, rather than the removal of problematic bogs, wildlife authorities prefer they be dealt with in a way that won't negatively impact wildlife. This week in Chippewa when a large floating island caused a local bridge to become blocked, around 20 local boaters came together to slowly push the island to a new location. This process isn't as easy as it seems, and can only be done on a day when the wind is to their backs to assist in the push. They have become quite used to this process in areas where bogs are a common part of the landscape.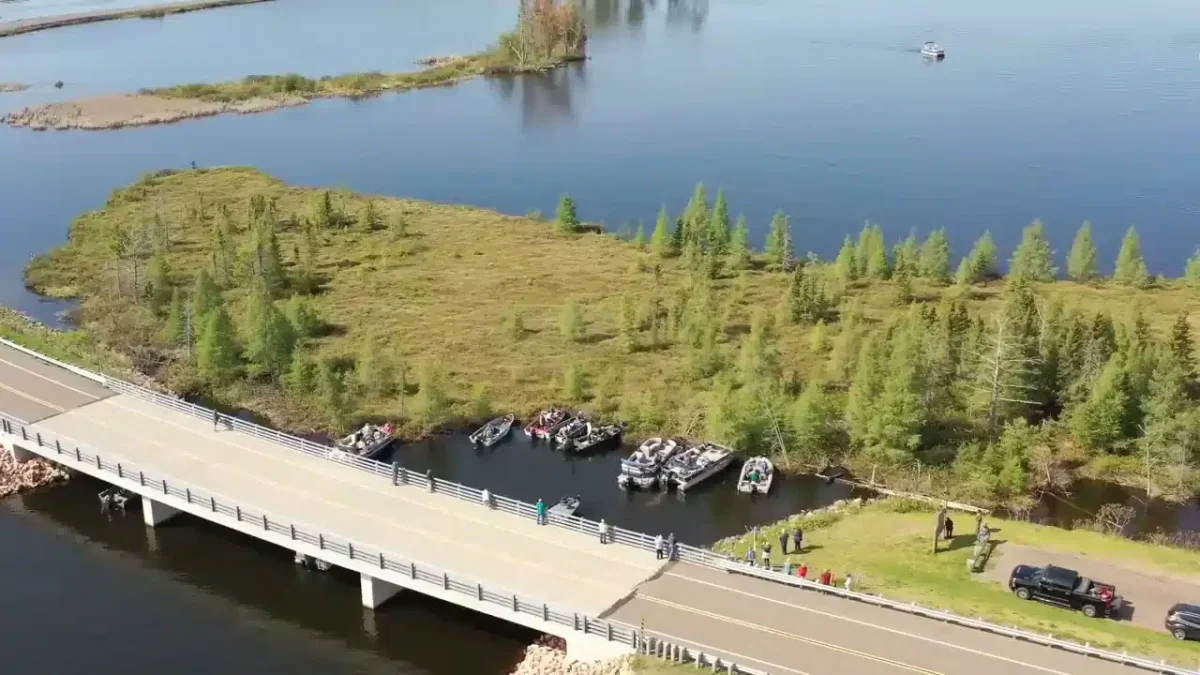 Wild Weather this Day in History
On September 13, 1944 the USS Warrington was in the Atlantic on its way to Trinidad, which unfortunately would be a destination it would never arrive to. This naval ship was put to sea the day after the attacks on Pearl Harbor. She was operated out of the Southern and Western Pacific completing escort and patrol missions for 16 months of World War II. The ship was returned to the US for repairs in New York City on September 10, 1944. Just days later the USS Warrington and its crew encountered a hurricane out at sea with 130 knot winds and massive waves that obliterated the hull of the ship. The USS Warrington began to take on large amounts of water causing their electrical system to shut down, cutting all power to the steering mechanism. The ship began sinking stern first about 175 nautical miles east-south-east of Great Abaco Island in the Bahamas. Most of the crew abandoned ship, but only 5 officers and 68 other crewman were recovered alive. 248 men were lost to the Great Atlantic Hurricane of 1944 in this tragic accident.
I hope you have an amazing rest of the week
Sources: https://startuppakistan.com.pk/this-giant-floating-island-has-to-be-pushed-by-boats-almost-every-year/ https://ericwiberg.com/2014/04/uss-warrington-dd-383-sunk-by-hurricane-13-september-1944-ne-of-bahamas