Today's Forecast
Good morning and happy Wednesday! I hope everyone has had an amazing week so far and have been enjoying these cooler, sunny days. The first day of fall is only 3 days away so these cooler temps are likely to stay. Not much is happening weather wise as we head towards this weekend except for a continuation of mostly sunny skies in the day and clear skies at night. The high for today is 83 and the low is 56, so make sure to grab a jacket on your way out the door this morning. Expect similar temps throughout the rest of this week.
Recent Wild Weather
Our wild weather for this week may seem a little "corny", but I promise you it's nothing to take lightly. On September 15th, in Topeka, Kansas, a dust devil struck a freshly harvested corn field. A dust devil is a strong, well-formed, and relatively short-lived whirlwind. It can range in size from very small to very large. They are relatively harmless, although on rare occasion, they have become strong enough to pose a threat to both property and people. Dust devils typically form on fair weather days, including plenty of sunshine, warm temperatures, and light winds. They sweep in an upward motion as they travel across the ground, and in this case, it was picking up all the leftover cornstalks in its path. With fall just days away this was a scene that was definitely bringing all the fall vibes. See the link below for a cool video of the "corn devil".
Wild Weather this Day in History
On September 20th, 1909, one of the deadliest hurricanes to ever hit the United States would make its way into the history books, being referred to as The Grand Isle Hurricane. This is where it first made landfall as a Category 3 hurricane, destroying everything in its path. It would continue its path through New Orleans causing extensive flood damage as a result of the fifteen-foot storm surge. The Grand Isle Hurricane would eventually dissipate over Missouri on September 22, but not before causing catastrophic damage including the loss of 371 lives and 265 million dollars in damage.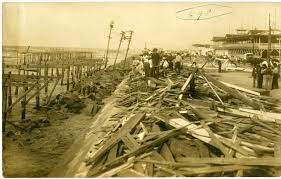 I hope everyone has an amazing rest of the week and continues to enjoy these beautiful days while we have them!
Sources: https://fox8.com/news/watch-corn-devil-forms-in-freshly-harvested-field/ https://www.youtube.com/watch?v=9OXQSbe0p8w https://devastatingdisasters.com/louisiana-hurricane-september-20-1909/ https://www.weather.gov/abr/This_Day_in_Weather_History_Sep_20#:~:text=1909%3A%20A%20large%20and%20deadly,in%20damage%20(2010%20USD).