Tomorrow there is a good chance that the storms rolling through around midday will be severe, straight line wind damages will be the main threat as winds will be sustained at around 20 mph.  Gusts could be over 40 mph.  Winds will pick up overnight and by early morning hours we will see the effects of the tight pressure gradient and the approaching cold front.  The cold front will be through the area by 3:00-4:00 pm. But expect the heaviest winds ahead of the cold front.  An embedded tornado can't be ruled out though, tornadic supercells will be favorable near the southern end of the squall line.  So depending on how far the squall line reaches southward, that southern tip will be favorable for tornadoes.  In the main line, the main threat is straight line winds.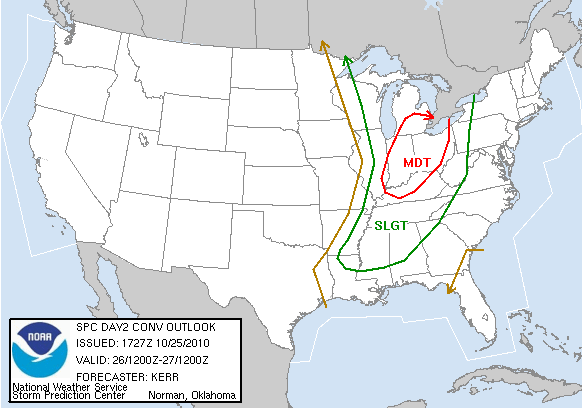 Otherwise expect a high temperature around 75 and a low around 50.  Winds being the main factor starting overnight tonight.  Keep an outlook on weather throughout the day.  If frontal timing is later, that will give the atmosphere more time to heat up and destabilize which could up the severe potential.  If that is the case, an update will be posted as soon as it becomes eminent.
Wednesday we will be under mostly sunny skies with a high in the mid to upper 70s.  Still on the windy side with winds ranging from 7-13 mph and gusts over 20 mph.  A low Wednesday night around 45.  Winds calming down Wednesday night as well.