Following this weekends cool blast and a more active southern stream, A significant winter storm will impact the deep south tonight through Tuesday. However, for our neck of the woods, most of the heavy accumulations will remain down south.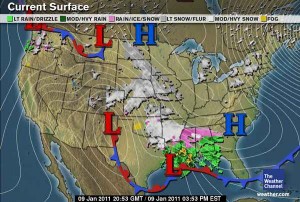 A deep 500 mb trough in place through the central U.S, with an embedded shortwave trough with translate northeast across the south over the next 24-46 hours. The resulting surface low pressure cylcone will track along the gulf coast, where Warm air advection and a strong low level jet will advect ample moisture in the deep south.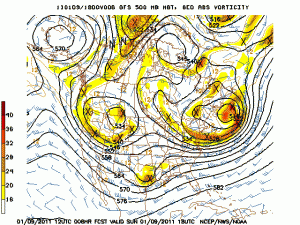 This is a classic overrunning situation where southernly winds in front of a system 'overrun' with respect to density and height, cold air that is already in place at the surface. Places such as TN where there is a sufficently deep cold air mass in place will remain all snow, where as the deep south will experience a wintery mix with heavy ice accumulations a particular concern for Alabama.
The graphics below depict the 850 mb temperatures and the forecasted precipitation for 6 am central time tommorow.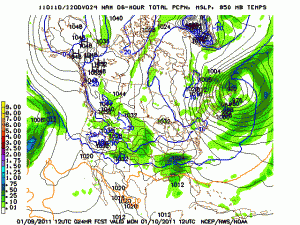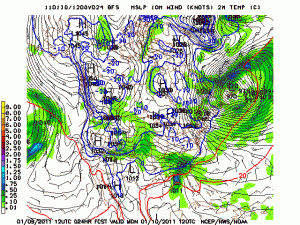 The NAM(top) is slightly more aggressive in bringing in more moisture than the GFS(bottom). However both models as well as other model suites are in good agreement on the track of the surface low. The important thing to note is the sharp forecasted precipitation gradient as moisture tends to fall off very quickly north of say Nashville. As far as snow totals are concerned in South Central Kentucky; anywhere from a dusting in central Kentucky to 2 in of snow along the KY/TN border are possible.
For snow lovers, another chance of accumulating snow is forecated for Tuesday morning as an upper-level wave and its surface reflection pass through our region. So make sure and stay tuned for updates.
Even further out things look to get brrrrrr. cold as an truly artic airmass may make it as far south as kentucky next weekend. Should be an exciting week for weather!