After evaluating the more reliable 0z (0z and 12z runs use observed upper air data from the U.S. radiosonde network) suite of model runs, there remains favorable continuity with the last set of model runs with only a sharpening of the QPF gradient. Snowfall totals for Monday seem to be consistently forecasted as 2 inches along the KY/TN border where counties 1 tier north of those getting an inch or less of the white stuff. The snow really drops off north of Nashville with totals there being 3 to 4 inches if you happen to be traveling.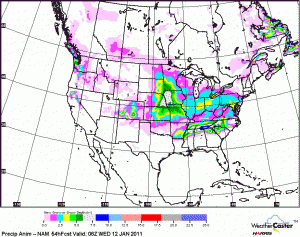 Forecast soundings from the RUC, observed in bufkit, have about a half of an inch of snow in Bowling Green, while areas to the south and east receiving just a touch more. Feel that this is good due to continuity of forecast products with the SREF and the fact that any snow that initially falls will fall as virga (precipitation that evaporates before it reaches the ground). This forecasted sounding from the RUC shows precipitation beginning to accumulate in Bowling Green @ 5a.m.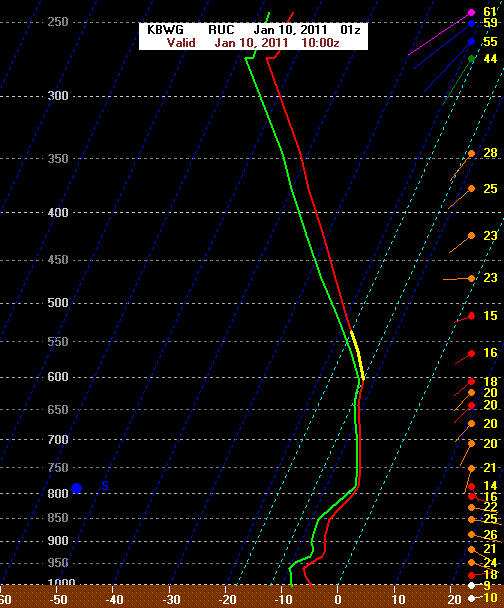 All of that aside, With freezing ground temperature in place any snow will readily stick and untreated roads will become snow-covered. So take it slow tomorrow morning as the onset of precipitation looks to begin at about 2 a.m. Monday morning at the KY/TN border as seen below in the RUC rapid high resolution rapid refresh (HRRR) simulated radar reflectivity.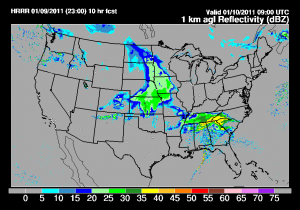 For any Kentuckians left without snow from this first shot, most of us will luck out with a second chance on late Monday night into Tuesday. Even though this first surface system is more potent and will drop more snow in the south, its lagging upper level energy will swing through the
Midwest Monday evening, and cause the formation of a surface low in TN that will quickly move northeastward.
There is some disagreement on the exact track, but regardless there will be widespread light snows across most of Kentucky. For now it appears that the further north with this second system, the more snow you will receive. 1-2 inches will not be out of the question for central Kentucky, while northward crossing the Ohio river into Indiana, those areas could receive up to 4 inches. There is still some deviation in model solutions with this second impulse of energy, so no need to carve it in stone yet.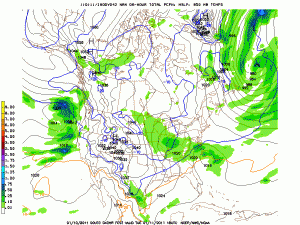 As of now onset of precipitation with the second system will likely start around midnight Monday night and the accumulating snow showers will have moved out by Tuesday afternoon. Snow flurries will continue off and on through Wed. due to wrap around moisture and a cold northwest flow behind the system.
In summary for Bowling Green:
Tonight: Snow flurries after midnight light snow in the early morning
hours, low 24
Monday: High 32, light snow before noon total accumulation <1″,
chance of snow flurries the rest of the day
Monday night: Low 28 snow develops after midnight .5″
Tues: High 32, light snow, new snow .5″
Wed: Mostly Clear, Cold HI=25 low=13
Fri: Mostly Clear, HI=31 low =21