Winter storm to affect our region Thursday through Thursday night.
An upper level trough is digging in the west in association with a surface low forming off the leeward side of the Rockies in the Texas Panhandle. As the low progresses eastward precipitation will makes its way into the area west to east on Thursday. The trough will reach the region Thursday afternoon which is when our best shot of moderate snow would be.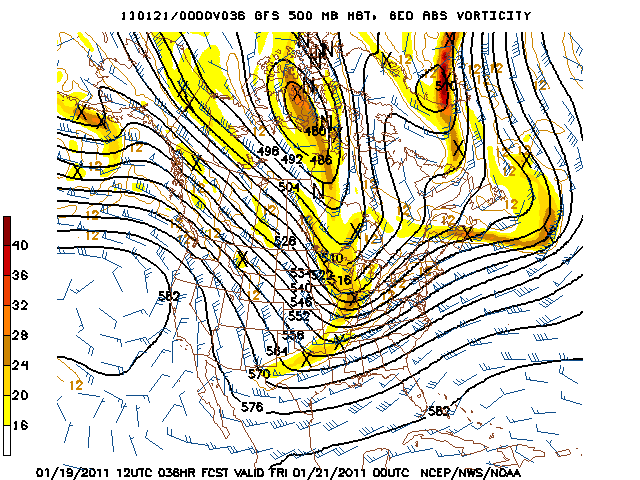 Snow looks to start in south central Kentucky between 1 and 4 pm tomorrow afternoon and will exit the region Friday morning, with some lingering flurries possible through mid morning Friday. BUFKIT sounding for Bowling Green shows good dentritic growth in the -10 to -20 degree Celsius range indicating abundant moisture and respectable vertical motion. I have the highlighted dentritic growth zone in yellow in the sounding below.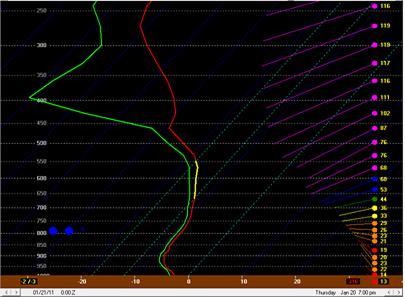 As far as accumulations go, south central Kentucky should see generally 1-3 inches with locally higher amounts possible. It does seem we have good moisture in place to support this. Also with temperatures being in the upper teens Thursday night expect roadways to deteriorate as the heavier snow starts to fall and we approach nighttime hours.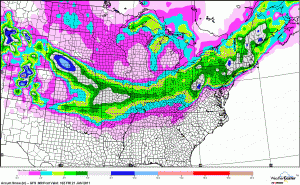 An update will be coming tomorrow ahead of the storm system to let you know of any changes. I encourage you readers to report road conditions and snow totals so we can update the blog to inform people thinking of getting out on the roads. And reporting snow totals we can give a summary of the event and compare our forecast with what really happened. Thanks for reading and enjoy the rest of your day.
Wednesday: Cloudy, Hi 38 Lo 28. Winds out of the Northwest 3-7 mph.
Thursday: Snow, Hi 37 Lo 17. Snow accumulations 1-3 inches by Friday morning. Winds out of the northwest at 7-10 mph.
Friday: Partly sunny and cold, Hi 22 Lo 13. Northwest winds 10-15 mph.