we see many temperature busts with modeling and forecasts underdoing the WAA ahead of a week clipper which will pass well to our north. This will result in melting of the persistent snowcover across the region. Highs today will be in the 50′s with BWG near 60. Tonight I still expect lows to fall into the 30′s. I'm going with the warmer ECMWF Sunday for highs in the low to mid 50′s Sunday for the south and 40′s north keeping clouds away Till Sunday night .
An arctic boundary moves into the upper Ohio valley with rain developing along it for Monday through Tuesday night. In fact I like the ECMWF continuing to take this low over Paducah keeping any freezing rain threat minimal and bringing a severe threat from AL into TN and perhaps southern and southeast KY. The 12z ECMWF surface output can't be shown due to copyright laws. Any severe threat for the south would be shear not instability driven with gusty winds the main threat. Other wise I expect the region to see a soaking rain of 1 to perhaps 2 inches from monday night through early Wednesday. I expect highs in the 40′s Monday with Monday night around 32 north which could lead to a brief period of frz rain for CVG and highs again well into the 40′s and 50′s Tuesday.  By Wednesday the cold front swings through behind the storm and we end up with flurries and temps in the 30′s as southerly winds shift to northwesterly.
This boundary stalls late week over the south and in my view is ideal for the secondary low theory with the ecmwf,cmc and jma all showing this my confidence is higher than usual with secondary lows. My thinking is this should be snowmaker here if there is one this upcoming week. timing would most likely be Saturday.
notice how we're warm for most of this week and have been cold all winter?  the cold has mainly due to the AO through mid JAN and the PNA till now. notice the PNA going strong negative which is not a cold signal . The AO is positive this week but may go negative around the 7th again. But for this week for the first time all winter no teleconnections are governing cold and the la-nina can have some influence.
AO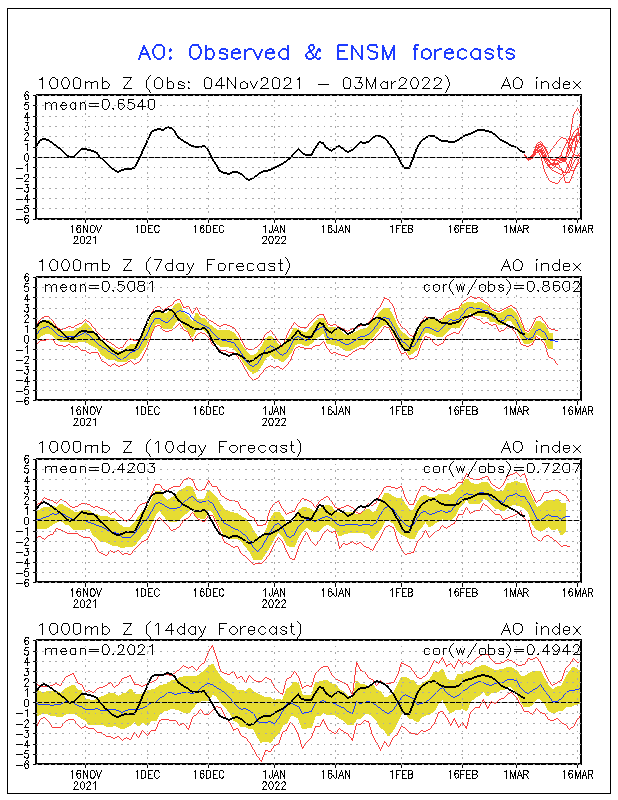 PNA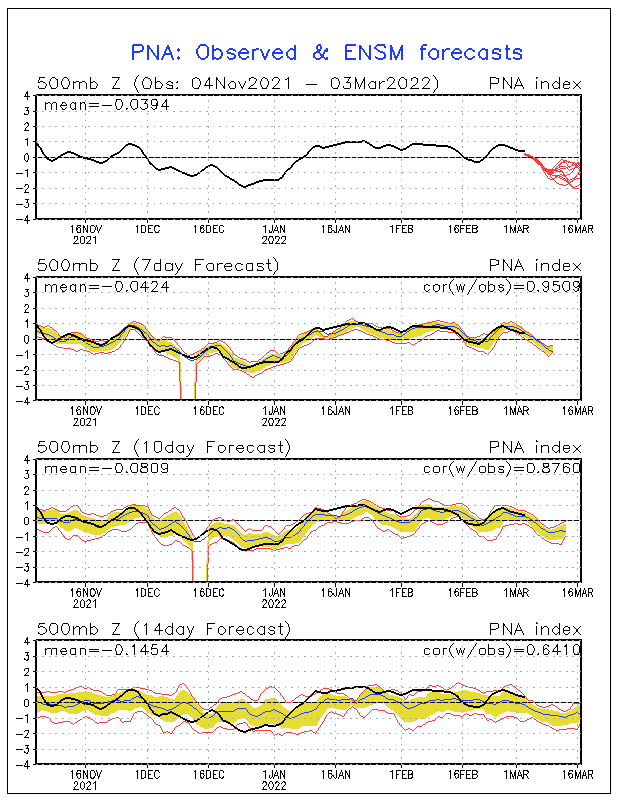 GFS rainfall Mon-Tue, ECMWF is lighter
The the groudhog will be waiting for two things to determine if he sees his shadow this week
1. if the AO projections next week for mid month go positive
2. The ECMWF weeklies ( since I haven't seen them yet)