Day 3 of our chase shaped up to be a transition day on the road as the frontal boundary responsible for the initiation of thunderstorms on our first two days continued on a persistent southward progression. Numerical weather models were having to play catch up it seemed.
As you can see in the surface map above, the frontal boundary location, (blue contour), sagged more south than expected, undercutting our chances for organized thunderstorm development in our location. We spent the night in Alpine, TX to be in position, which is close to the circled METAR (KMRF), but the atmosphere had different plans.
Thus, this morning we decided to travel northward to spend the night in Guymon, OK, which is in the Oklahoma panhandle. This move was to get us into position for Day 4 where an approaching shortwave trough, and other upper-air support, is expected to move into the region and support better chances of thunderstorm activity nearby.
The move also allowed for the opportunity to stick to WKU Storm Chase tradition and eat dinner at The Big Texan in Amarillo, TX! The food here was great, as usual I hear.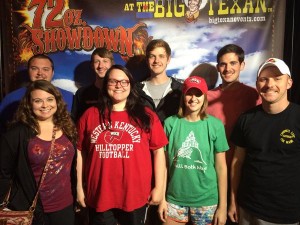 Storm chase tradition: As visit to the Big Texan in Amarillo, TX. #WKU pic.twitter.com/CU1PnkIgkf

— WKU Sto☈m Chase☈s (@wkustormchase) May 22, 2015
We could find ourselves moving northwest early in the morning into the High Plains of Colorado as models currently suggest some mesoscale features that could promote the initiation of thunderstorms. We'll continue to monitor the important observation data in the morning and follow up with a forecast discussion. We'll post our decisions on Twitter at @wkustormchase! Stay tuned! -Alex S.