Day 4 of the trip began in Guymon, OK after traveling from Alpine, TX the day before. Guymon put us about 6 hours away from the potential target areas.  The surface analysis below shows isodrosotherms (green), 500mb flow (yellow), 850mb flow (orange), greatest area of helicity (purple), greatest area of instability (blue), 500mb vortmax (black x), and forecasted target area in red. 500mb winds out of the southwest were forecast to assist in upper level support and this combined with 850mb winds, out of the southeast, generated part of shearing wind profile over eastern Colorado. Dew point temperatures reached only into the fifties, but due to high elevation, less moisture is necessary for severe weather development. The low dewpoints also assisted in keeping the storms LP (low precipitation). The greatest area of instability was in SE Colorado and the greatest helicity values were in eastern Colorado. These parameters along with the upsloping flow and mesoscale considerations along the front range of the Rockies resulted in Limon, CO being our target area.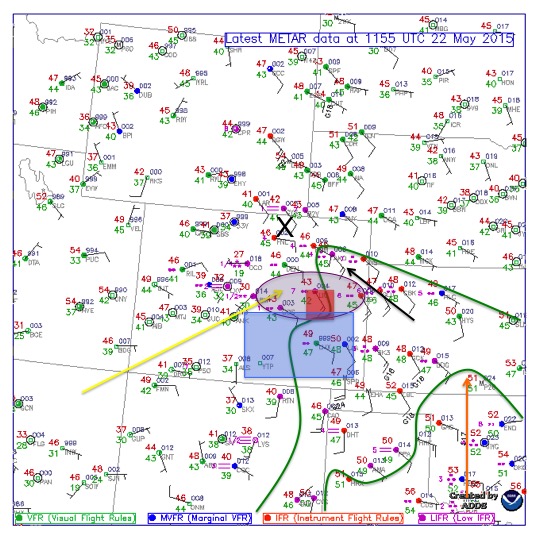 After eating lunch at Oscar's in Limon, CO, we drove south to Punkin Center to find a view for storm initiation (below). From this location we viewed multiple cells fire and dissipate after a few minutes. However, the blue skies and sunshine were a nice break from the foggy mornings of the past few days. Storms struggled to maintain so after a couple of hours we decided to head to Hugo, CO. From here we were able to monitor two potential areas of storm development. Both the HRRR and NAM-4k painted development near Limon around 21z. This didn't pan out and we ended up playing a game of football pig at a local park.
Around 6pm a cell was able to develop slight rotation so we decided to ditch the park and intercept it. Although the storm was not impressive on radar, it eventually produced some decent supercell structure. While chasing the storm we were able to stop and capture great images of it's lifecycle.
The radar image below shows our location relative to the picture above.
After this supercell began to dissipate we decided to leave it and head east to observe other cells. One of these being a low precipitation supercell, pictured below.
We attempted to grab a few lightning photos at dusk but strikes were sparse so we decided to head back to our hotel in Limon, CO to prepare for tomorrow.