Today we started our chase day in Limon, CO after chasing in Southeast Colorado the day before. The surface analysis below displays observations of the mornings conditions before the chase, as well as the parameters that model output was giving for the afternoon. The Surface analysis displays current morning dew points (green lines), 250 mb flow (blue arrow), 850 mb flow (yellow arrow),  greatest area of instability (purple box), greatest quantity of vertical velocity (X), and our target itself, which was Lamar, CO (red box). 250 mb winds were setting stage for a greater amount of upper level support in our area which there has been a lack if in previous forecast days. With the combination of the 250 mb flow and the 850 mb flow, the directional change in height of the winds gave the atmosphere a sheered profile in Southeastern Colorado. The dew points reached the mid 50 degree marks which is enough moisture in the high plains to produce severe thunderstorms. The greatest amounts of instability and vertical velocity were also located in the Southeastern Colorado region. With the parameters mentioned above, and outlying boundaries left from morning convection, Lamar, CO was chosen as our target for the day.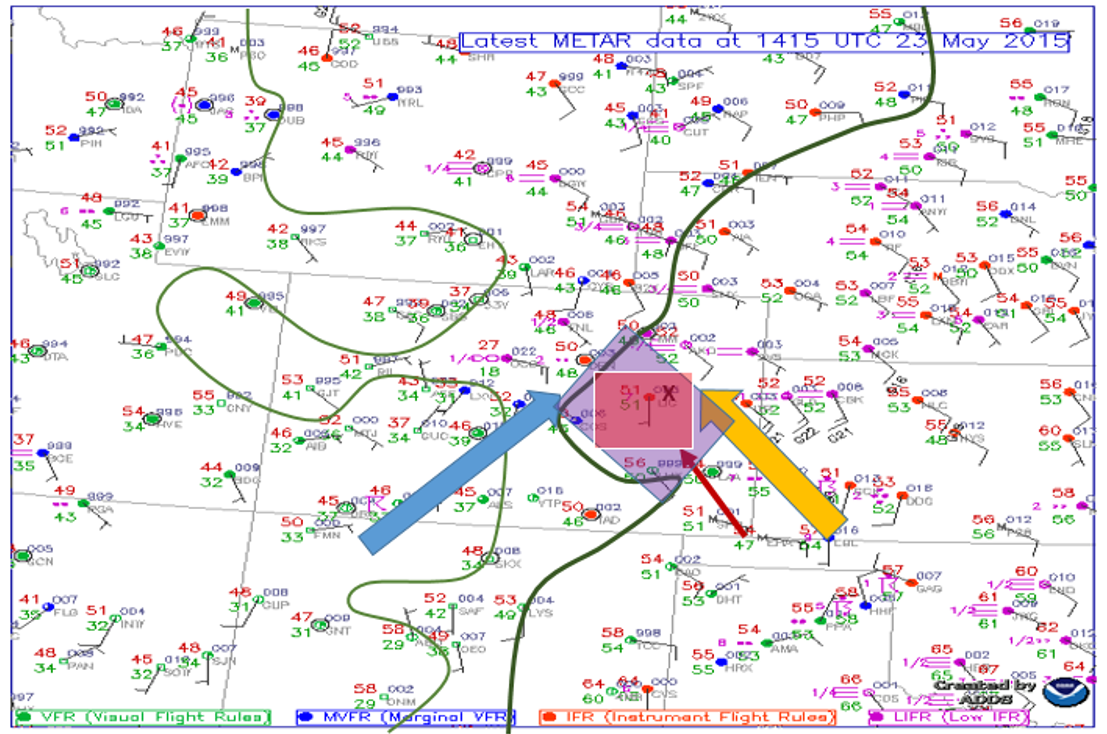 After sticking around the hotel in Limon, the group ate lunch on their own and left towards Lamar, CO around noon. Due to the lack of a capped environment, storm initiation was already occurring to the southwest of Limon. The group traveled south and closed in on a tornado warned storm just southwest of Arlington, CO. This storm had several reported funnels descend from a wall cloud, but none officially reached the ground.
After the many instances of poor road networks the group decided to keep proceeding eastward ahead of the line of storms and get fuel in Lamar. After fueling up, we went south and let the line of storms hit our van, where we experienced a gust front, heavy rain and pea sized hail. After letting the line pass in front of us, the group followed the storm east and noticed smaller cells forming on the southern end of the line of storms. We stopped just west of Las Animas, CO and viewed the storm as well as threw around the football.
After watching the storms just before sunset, we drove about 120 miles east to our hotel for the night in Garden City, KS. But before going to bed, we enjoyed a fabulous supper at Las Margaritas, a Mexican restaurant in Garden City.