Today we woke up in Altus, Oklahoma with the intentions of traveling south for the day's chase. As seen in the composite map below, there was sufficient support for a good chase day. 500mb wind flow (blue arrow) was out of the southwest with a jet streak moving northeastward through Texas. 850mb wind flow (orange arrow) was out of the southeast with a low-level jet max also located in mid Texas. Plenty of moisture was located in Texas today as seen by the 60 degree dewpoint line (in green) extending as far west as the Abilene area. Likewise, the dry line (brown dash) was located just to the west of 60 degree dewpoints, providing a nice moisture gradient. The area of greatest of instability (dark blue circle) was located a tad east of Abilene and the area of greatest helicity (pink circle) was located to the south. With these factors in mind and better chasing terrain west of Dallas/Fort Worth, the Abilene area was chosen as the target city (red box). Simulated reflectivity models suggested a clustering of storms moving through this area around noon and SPC issued a moderate risk for east central Texas with Abilene in the enhanced risk area.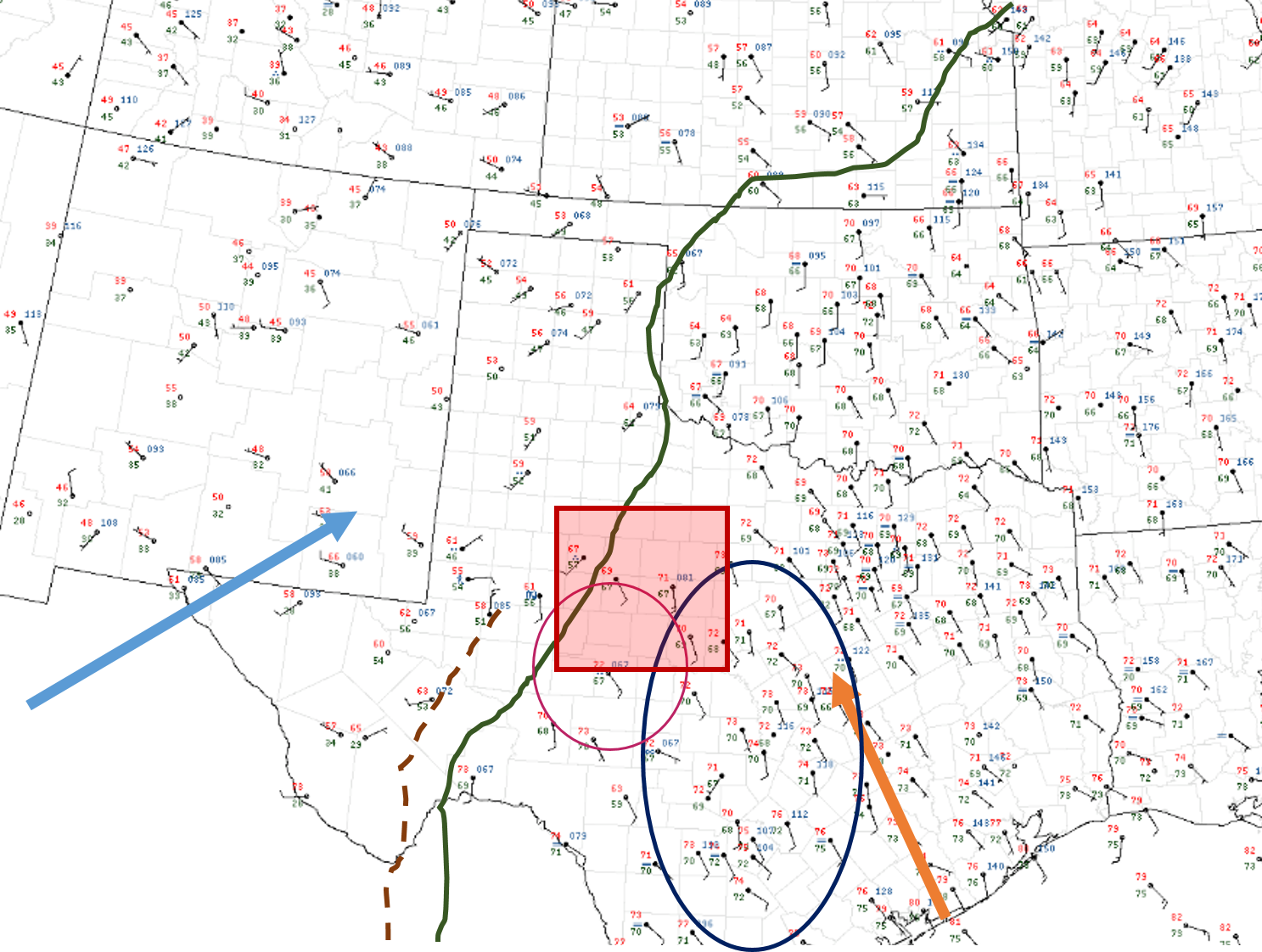 Storms had already started to fire early in the morning and we were unable to make the 2.5 hour drive from Altus to Abilene in time to intercept the cluster of storms. Instead, we drove southeast to position ourselves in front of the line of storms. On the way, we saw great mammatus formation on the front edge of the storm.
We stopped in Weatherford, TX to grab a quick lunch and proceeded south. The linear system started to break apart and multiple tornado vortex signatures were detected, one of which we followed to the outskirts of Granbury. We were unable to see any funnel cloud formation, however we did get some amazing pictures of the shelf cloud as it was moving toward us.
We stopped following the storms as they moved northeast into non-ideal chasing terrain. We decided to call it a day and head north to Gainesville, TX to stay the night.