Hello, everyone! Here's a recap of Day 2 of our Storm Chase Trip. It was definitely an interesting forecast and it left us having to make some difficult decisions.
We started the day off in San Angelo, TX with a forecast discussion. Within the last two days we had traveled 1,640 miles, so it was a more relaxed morning since the travel distance wouldn't be as long. We began the forecast discussion at 10:30 AM and remotely included the EMDS (Emergency Management and Disaster Science) 504 class through zoom.
Atmospheric Setup
The SPC had outlined the central and south Texas within a slight risk. During the forecast discussion on Tuesday morning, the focus was on an outflow boundary and dryline moving into central Texas from the west. There was a closed low was still positioned just east of the four corners bringing divergence aloft for lift which is what also aided in producing the tornadic supercell from the day before. High values of theta-e near 350-360K were advecting from the Gulf into south central Texas bringing warm, moist air to aid in lift at the surface.
Target Discussion
The original plan was to continue east into Texas to catch the cells that would form from the interaction of the outflow boundary and the dryline. Due to the lack of shear the cells that initiate would be disorganized and form into a linear storm mode very quickly. Looking into the future going that far south would put us out of position for future chase days that would be in the northern High Plains near Wyoming and Montana. We decided to begin to head north and target Amarillo to set up for the night and prepare for the next day of driving into position.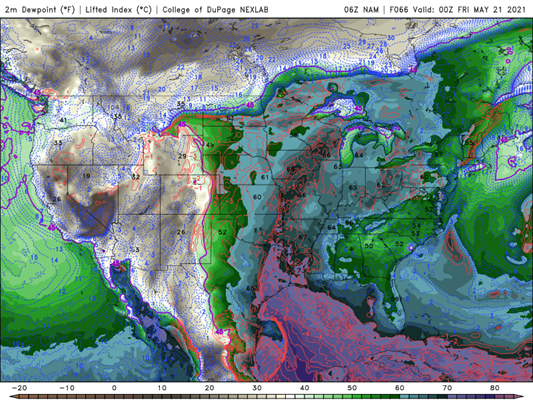 The Drive
After we decided the best course of action for our day, we set out and headed north towards Amarillo. We made a brief stop for lunch at Jimmy John's before we left the city to give us a break from Subway. On the dry, flat farmland, we caught sight of quite a few dust devils! About halfway into our trip, we took a detour to chase a rogue cell that was producing some small hail. A surprise chase! This took us into Seagraves, TX.
We chased this cell for about an hour driving in, out, and around the storm. We saw lots of blowing dust from localized downbursts, large rain shafts, and even caught sight of some small hail! A small notch began to form, so we watched the swirling dust closely. However, we never saw any funnel clouds or tornadoes, but some other chasers reported a small funnel after we left the storm.
We ended up having to leave the storm to ensure we make it to Amarillo to have supper at The Big Texan, a WKU Storm Chase staple! We had to celebrate seeing two tornadoes on Monday with some steaks and fun times!
We stayed the night at Amarillo to get ready for the next day's forecast and chase. Stay tuned for the update!