Good morning, folks, and happy Friday!
Today's Forecast
Everyone is waking up to much cooler temperatures across the region as we are looking at a relief from the late summer heat. For today, expect a picture perfect day with highs in the low 70s with abundant sunshine and a slight breeze. For tonight, clouds build in with temperatures falling into the upper 50s. Get out there and enjoy the taste of fall weather today!
What to Watch For
This weekend we warm things up slightly, with Saturday and Sunday highs in the low 80s. A small chance of a few isolated showers exists for your Saturday, otherwise the weekend will be calm. It should be a great weekend to get out and enjoy the weather! Looking ahead to next week, the weather is looking absolutely beautiful with sunny skies and cooler temperatures like we have today. You might even have to break the jacket out a couple mornings next week!
Weather Fact! (Tropics Edition)
Today, for this segment, let's focus on the activity in the tropics. It is September, after all, the most active month for tropical activity. First of all, Hurricane Fiona is moving just past the island of Bermuda as a high-end Category 3 storm with maximum sustained winds of 125mph. High winds and heavy rains are impacting the area currently, as Fiona tracks northward to Eastern Canada. An impending landfall in Eastern Canada is not common, but is not unheard of either. Landfall there will produce hurricane=force winds and heavy rain and winter precipitation. Elsewhere, there are two tropical depressions to track. Tropical depression 10 does not present any major threat now, as it is still far out at sea. Tropical depression 9, however, currently developing in the Lower Caribbean presents a much higher threat. Many forecast models have this system making landfall somewhere in the Gulf of Mexico, specifically Florida. Definitely something to keep an eye on as tropical systems have been known to occasionally impact our weather here locally.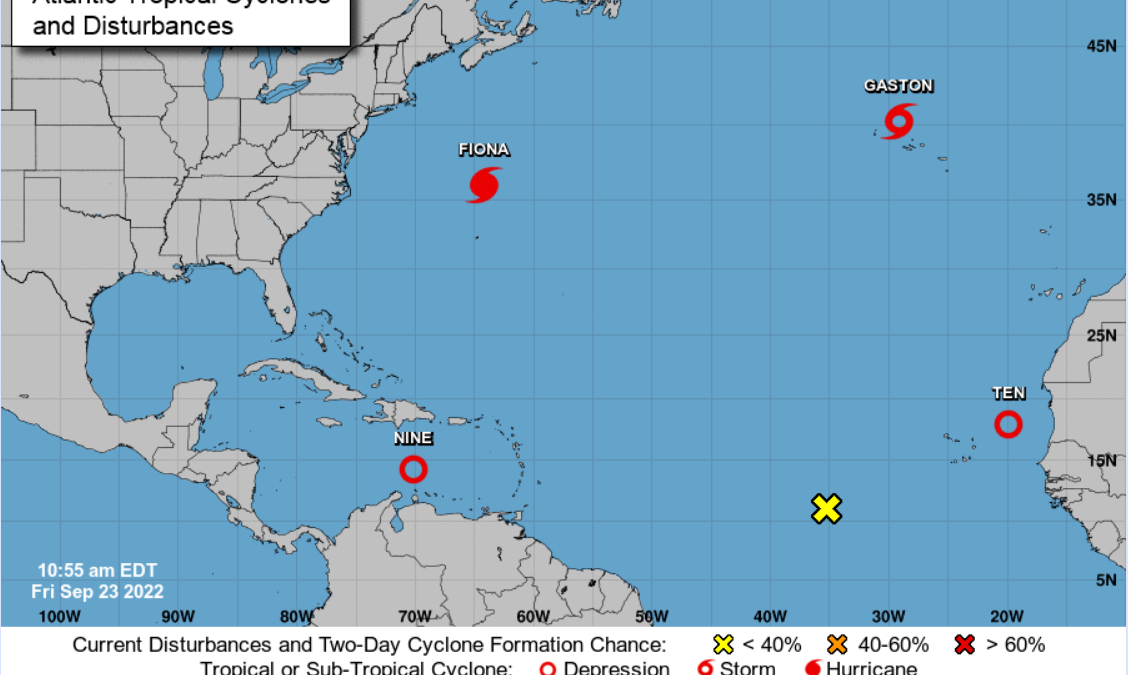 That's all for today! Have a great weekend everyone!